Maryland, Support Mandatory Veterinarian Reporting of Animal Cruelty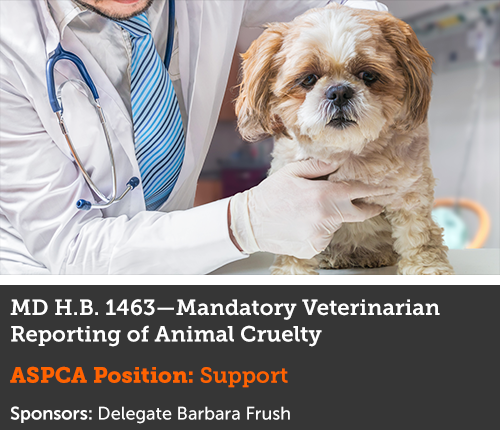 Update—April 11, 2017:  Great news, advocates! H.B. 1463 passed the state Legislature and now awaits the Governor's signature into law. We want to thank all of you who spoke up in support of this important bill.
Veterinarians are on the front lines of the fight against animal cruelty. Because animals have no voice, law enforcement officials rely almost entirely on tips from neighbors or veterinarians to identify and prosecute cases of animal abuse. 
Most veterinarians are already making reports of suspected cruelty because they believe it is their ethical and professional responsibility, but they are not currently obligated to report anything. A decision not to report suspected cruelty puts animals and humans at risk.
To ensure that animal abuse does not go unseen and unpunished, the Maryland General Assembly is considering H.B. 1463, legislation that would require veterinarians to report animal cruelty in the same way that doctors or teachers are required to report child abuse.