Massachusetts, Thank Gov. Baker for Signing Bill to Help Shelters & Low-Income Residents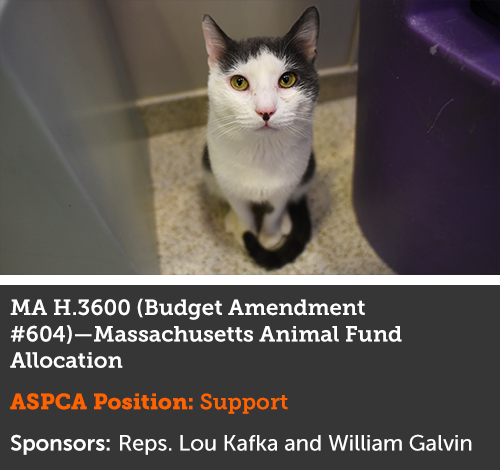 Update—September 11, 2017: House and Senate leaders agreed to allot an additional $100,000 in the 2018 state budget to the Massachusetts Animal Fund which will ensure animals on waiting lists receive access to critical spay/neuter and vaccination services. We want to thank everyone who spoke up on this issue. We also want to thank Rep. Kafka and Gov. Baker for their efforts in passing and signing this important amendment.
In 2012, the Legislature established the Massachusetts Animal Fund to fight animal homelessness by increasing access to spay/neuter services statewide and reducing the costs of these critical services for shelters and pets of low-income residents.
Unfortunately, the demand for these services far outweighs available funding. Since the Fund's sole revenue supply is sourced through "check-off" donations on state income tax filings, a large waitlist has formed and many animals are denied services.
In July, House and Senate leaders approved an allotment of $100,000 for the Massachusetts Animal Fund in the final budget bill.
 
What You Can Do
Please email Governor Baker to thank him for signing this important bill.
Thank you, Massachusetts!