Massachusetts, Bill to Help Shelters & Low-Income Residents Needs Your Voice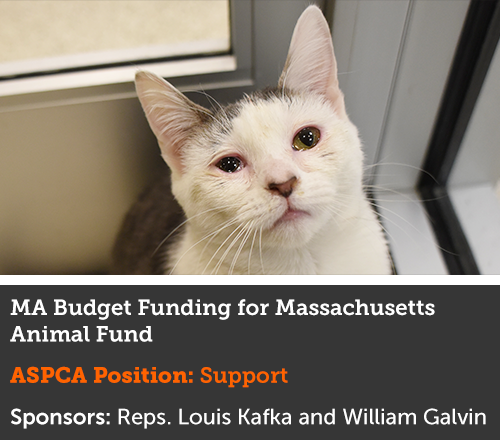 In 2012, the Legislature established the Massachusetts Animal Fund to fight animal homelessness by increasing access to spay/neuter services statewide and reducing the costs of these critical services for shelters and pets of low-income residents.
Unfortunately, the demand for these services far outweighs available funding. Since the Fund's sole revenue supply is sourced through "check-off" donations on state income tax filings, a large waitlist has formed and many animals are denied services.
An amendment filed by Representatives Lou Kafka and William Galvin to the state's 2018-2019 budget bill (H.4400, Budget Amendment #954 ) would help fix this by allocating $100,000 to the Massachusetts Animal Fund to ensure more animals in the Commonwealth receive needed spay/neuter services.
 
What You Can Do
Debate on the House budget begin will begin shortly, so we need you to speak up on behalf of this critical budget allotment.
First, place a quick, polite call your state representative and urge him or her to cosponsor Amendment #954 to allocate funds to the Massachusetts Animal Fund. If you don't know who represents you in the state House, you can find you legislator's name and phone number here.
Then, please use the form below to send an email to your state representative with the same message of support.
Thank you, Massachusetts!