Massachusetts, Bill to Help Shelters & Low-Income Residents Needs Your Voice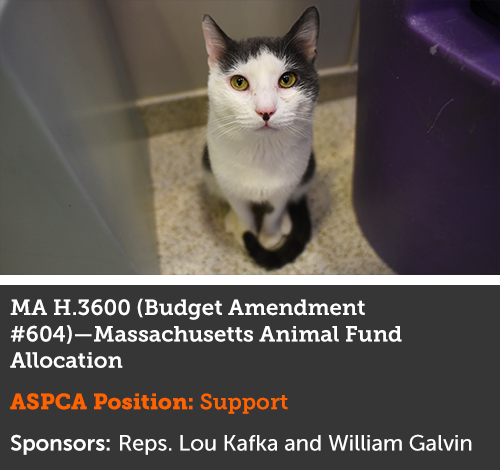 In 2012, the Legislature established the Massachusetts Animal Fund to fight animal homelessness by increasing access to spay/neuter services statewide and reducing the costs of these critical services for shelters and pets of low-income residents.
Unfortunately, the demand for these services far outweighs available funding. Since the Fund's sole revenue supply is sourced through "check-off" donations on state income tax filings, a large waitlist has formed and many animals are denied services.
In April, the House approved an allotment of $100,000 for the Massachusetts Animal Fund. However, these much-needed dollars did not make it into the Senate budget. The language remains in the House version of the budget and is now subject to a 6-member conference committee (3 members from the Senate and 3 from the House), which will need to reach an agreement on whether to include this critical funding provision in the final budget bill.
 
What You Can Do
This is our last chance to ensure more of Massachusetts's animals receive the services they need, so please take these actions today:
1. Please place quick, polite phone calls to the conference committee members listed below and urge them to include House Budget Amendment #604 in the final budget bill to allot $100,000 to the Massachusetts Animal Fund.
Committee Members:
Senator Karen Spilka: (617) 722-1640
Senator Sal DiDomenico: (617) 722-1650
Senator Vinny DeMacedo: (617) 722-1330
Representative Brian Dempsey: (617) 722-2990
Representative Stephen Kulik: (617) 722-2380
Representative Todd Smola: (617) 722-2100
2. After your phone calls, use the form below to email the conference committee members with the same message of support for House Budget Amendment #604. Be sure to personalize your email to let the committee members know why this issue is important to you.
Thank you, Massachusetts!