Massachusetts, Ask Your Legislators to Support Animal-Protection Bills!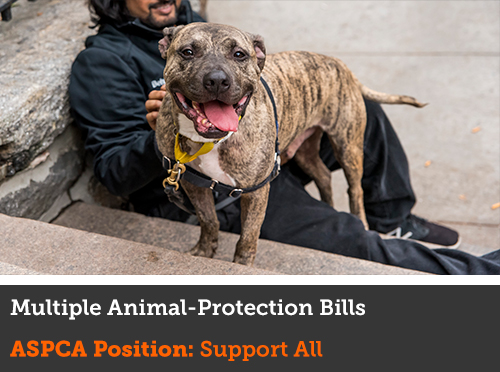 Update—August 25, 2016:  Unfortunately the majority of these bills failed to cross the finish line before the end of session, but thanks to your help, we secured a huge victory to protect the health and safety of animals in cars. SD 2369, which passed the Legislature and was signed into law by Governor Baker, will now give animal control officers, law enforcement officers, fire fighters and certain private citizens authority to remove an animal from a vehicle when extreme heat or cold threatens the health of the animal. We want to thank all of you who took action on these important bills, and hope you will stand beside us as we continue to fight for your state's animals in 2017!

Your Massachusetts state senator and representative in Boston considered these animal-friendly bills during the 2016 legislative session:
Protect Seized Animals in Cruelty Cases (HD 347) 
Sponsor:  Representative Linda Dean Campbell
This "cost of care" bill would update and correct an existing law that lets courts require alleged abusers to post a bond for the care of animals seized in cruelty cases. The legislation is necessary to protect the law enforcement agencies, cities, towns, shelters and other entities that must care for these animals, often for long periods of time, during cruelty prosecutions.
Ensure Adequate Care of Animals in Cities and Towns (HD 497) 
Sponsor:  Representative Louis Kafka
HD 497 would require animal owners and possessors to provide their animals with veterinary care. Over 20 states already have some provision in their statutes requiring basic animal care.

An Act Preventing Animal Suffering and Death (SD 2369) ​(Victory!)
Sponsors:  Representative Lori Ehrlich and Senator Mark Montigny
This bill would not only give animal control officers, law enforcement officers and fire fighters authority to remove an animal from a vehicle, but would also allow private citizens to do so provided certain criteria are met beforehand. It also amends the state's existing tethering law to prohibit tethering for longer than 5 hours in a 24 hour period or outside from 10:00 P.M. to 6:00 A.M.(unless the tethering is for not more than 15 minutes and the dog is not left unattended by the owner, guardian or keeper) and prohibits leaving a dog outside for more than 15 minutes when a weather advisory, warning or watch is issued or when extreme heat, cold, wind, rain, snow or hail pose a risk to the health or safety of the dog.

Protect Abandoned Animal in Vacant Properties (HD 1367, SD 902) 
Sponsors:  Representative Dave Rogers and Senator Jamie Eldridge
These pieces of legislation would require landlords and foreclosing owners to inspect recently vacated and foreclosed properties within 3 days for abandoned animals.

Strengthen the Enforcement of Certain Dog Laws (HD 1370, SD 1231) ​
Sponsors:  Representative Dave Rogers and Senator Pat Jehlen
These bills would allow special police officers (employed by the MSPCA and the Animal Rescue League of Boston) to crack down on certain inhumane and illegal dog-care practices.

Protections for Puppies and Kittens (HD 2126, SD 974) 
Sponsors:  Representative Garrett Bradley and Senator Karen Spilka
These bills would protect puppies, kittens and consumers by forbidding the sale of puppies and kittens until the animals are at least 8 weeks old. It also improves the state's existing options under the "puppy lemon law" for families that unknowingly purchase a sick pet and ensures pet shops only sell puppies and kittens from breeders that adhere to certain standards and don't have significant or repeat violations of the Animal Welfare Act.
Protections for Homeowners and Their Dogs (SD 982) 
Sponsor:  Senator Anne Gobi
This bill would stop homeowner insurance policy discrimination by preventing insurance companies from denying or cancelling insurance based on the breed of dog owned.