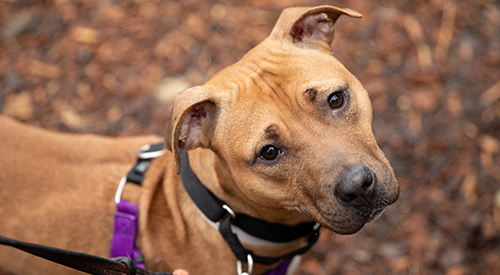 MA S.885/H.1437—Homeowner's Insurance Dog Breed Discrimination
ASPCA Position: Support
Sponsors: Senator Anne M. Gobi, Rep. Kate Hogan
At a time of unprecedented housing challenges, insurance company practices that increase insurance costs and decrease availability of policies for homeowners and renters stand as an unnecessary barrier to housing for responsible Bay State dog owners.

This is because, in Massachusetts, it remains legal for property insurance providers to significantly increase premiums—or even deny property insurance coverage—for households with specific breeds of dogs in their homes.

There is no sound evidence to support this unjustified policy. No data that shows that insurance claims for particular breeds of dogs are a bigger risk as compared to nonrestricted breeds. Dogs should be judged as the individuals they are—not based on erroneous and harmful stereotypes.

The range of dog breeds captured by this arbitrary practice is alarming, including many common and beloved breeds such as Labrador Retrievers, Boxers, Giant Schnauzers, German Shepherds, Chows, Great Danes, Alaskan Malamutes and more. This causes many thousands of responsible dog owners to be burdened with harsh financial and emotional consequences.

No one should have to choose between their well-behaved dog or their home. It should no longer be legal for property insurance providers in Massachusetts to inflate their rates, deny coverage or place burdensome conditions on coverage for customers based on the type of dog they have. Take action today and tell your lawmakers that you agree.
What You Can Do
Legislation has been introduced to stop this practice in Massachusetts for good. If passed, S.885/H.1437 would end discrimination in breed insurance once and for all, and also establish safety net policies to protect pet owners throughout the COVID-19 pandemic.

Please contact your state legislators using our form below and ask them to support S.885/H.1437.

Thank you, Massachusetts, for all you do for animals.