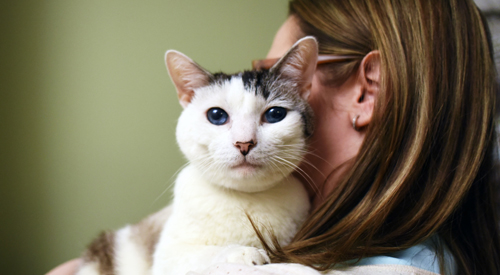 L.A. County's Proposal to Extend Protections for Renters with Pets
ASPCA Position: Support
On Tuesday, January 24, 2023, the Los Angeles County Board of Supervisors will vote on a resolution to extend eviction protections for tenants who acquired pets during the pandemic. If we don't act now, countless L.A. County residents may find themselves having to make a heartbreaking decision: give up their beloved family pet or lose their home.
Under current protections, set to expire at the end of January, unauthorized pets cannot be used as a cause for eviction. Tomorrow's decision could extend those protections.
L.A.'s animal shelters are currently overcrowded and under-resourced. Should eviction protections be revoked during these desperate times, Los Angeles could see a record number of animal surrenders, flooding local animal shelters with pets who could and should have stayed in loving homes.
What You Can Do
Don't let officials put people and pets at risk. Please use our form below to urge L.A. County Supervisors to VOTE YES on Agenda Item 41-A to maintain eviction protections for renters with pets.