Los Angeles County, Keep Pets and Families Together!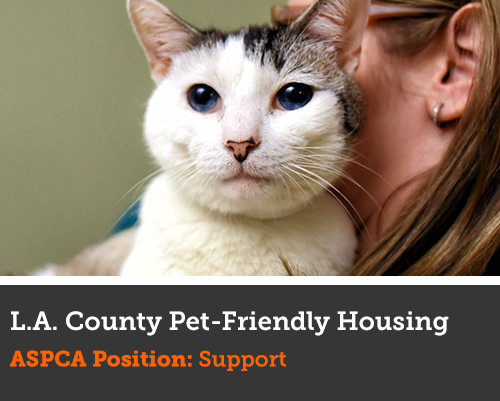 Update—March 13, 2019: We have great news to report, advocates! The L.A. Board of Supervisors voted to move this measure forward. Thank you to everyone who took action. We may need your voice again this spring, so please stay tuned.
A motion to create more pet-friendly housing in Los Angeles County will soon be considered by the County Board of Supervisors. Last year, the L.A. City Council approved a similar motion by a 13-0 vote, and now we need your voice to help families and their pets countywide.
A lack of access to pet-friendly housing can require pet owners to grapple with an impossible decision: either give up their pet or keep a roof over their heads. While this painful choice can be difficult to imagine, it is often a grim reality for those with few housing options or special housing needs.
The proposed action would help many households to avoid this decision by requiring all County-financed housing to be pet-friendly.
A national study conducted by the ASPCA revealed that those who rent are more likely to need to rehome their pets for housing issues than for any other reason. In Los Angeles County, housing was a reason given for roughly 24% of dog surrenders and 20% of cat surrenders between 2016 and 2018. Historically, 29% of these pets will ultimately be euthanized. 
There is no reason that people willing and able to care for their pets should be forced to part with them due to a lack of housing options. If passed, this motion could help ensure that pets and people can stay together and that housing is no longer an impossible barrier for people who love and care for their pets.
What You Can Do
None at this time. Please stay tuned for ways you can help!
 
Thank you, Los Angeles County!