Indiana, Domestic Violence Bill Needs Your Help!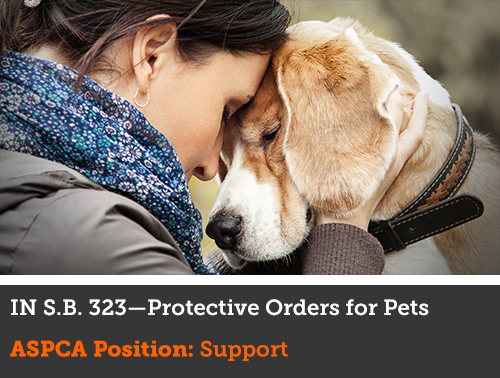 Update—March 20, 2017: With your help, S.B. 323, which includes the pet protective order, passed unanimously out of the House today. Now S.B. 323 will provide domestic violence victims  with several protective orders, including the ability to remove companion animals from abusive situations. Please contact Governor Holcomb TODAY at (317) 232-4567 and ask him to sign this critical bill, that will help to protect Indiana families and pets from domestic violence, into law. See action steps below.
Sadly, animals often are used as pawns in domestic disputes, causing their loving owners to remain trapped in dangerous situations. A 2012 study found that 59% of abused women delayed leaving the home out of fear of leaving their pets behind.

Senate Bill 323 would allow judges to include pets in protective orders issued to victims of domestic violence, giving victims the security they need to get help and keep pets away from abusers.

Thirty-two other states already have this law. We need your help to make Indiana the next state to pass this commonsense legislation.
 
What You Can Do
Please take these two quick actions today to ensure your Indiana state representative supports its passage once it arrives on the House floor:
Please place a quick, polite phone call to Governor Holcomb's office at (317) 232-4567. You can simply say: "As a constituent, I urge you to sign S.B. 323 to protect victims of domestic violence and their pets."
 
Then fill out and submit the form below to email the Governor with the same message of support. Don't forget to personalize your letter and explain why protecting Indiana's families and pets is important to you!
Thank you for your help, Indiana.