Indiana, Animal-Protection Efforts Need Your Help!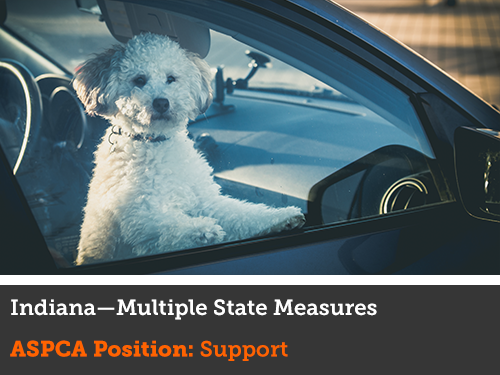 Update—March 21, 2017:  S.B. 282, which passed out of the House Agriculture Committee March 16, 2017, establishes a spay-neuter trust fund at the Indiana Board of Animal Health.  Please ask your state representatives and senators TODAY to support an appropriation into this trust fund this year for spay-neuter services! See action steps below.
Indiana is in the second half of its 2017 legislative session, and we need your help to push two critical animal welfare efforts across the finish line.
Support:

Spay/Neuter Funding (S.B. 282)
To address pet overpopulation, the Indiana State Legislature unanimously passed House Enrolled Act 1201 in 2016, which requires that, starting in 2021, shelters and rescues spay/neuter animals before allowing them to be adopted. However, many of Indiana's municipal shelters and non-profit rescue groups simply can't pay for all these surgeries. S.B 282 establishes a spay/neuter trust fund at the Indiana Board of Animal Health to help shelters and rescues meet this important requirement. It is critical that Indiana legislators appropriate money for this fund in 2017.
Support: Protecting Animals in Hot Cars (H.B. 1085)
Sponsors: Reps. Linda Lawson, Mike Karickhoff, Tony Cook and Donna Schaibley
In the summer, a car can easily trap heat, harming the animals inside. When it's 80 degrees outside, your car will be 114 degrees in less than 30 minutes; when it's 85, your car will be 120 degrees. H.B. 1085 would prevent the tragedy of animals dying in sweltering cars on hot summer days by providing immunity to Good Samaritans who remove domestic animals trapped in unattended vehicles.
What You Can Do
We have only weeks to get these animal welfare efforts enacted into law! It is urgent that you contact your both your state senator and representative TODAY and ask for their support of these important humane measures!

Please take these two actions right away:
1)  
Place a quick, polite phone calls
to your state senator and state represenative
in Indianapolis and urge them to support S.B. 282 and appropriate money for this fund in 2017.
While you are on the phone with your state senator, please be sure to also urge him or her to support H.B. 1085! If you don't know who represents you in the state Legislature,
you can find your legislators' names and phone numbers here
.
2)  Send a follow-up email to your state legislators with the same message of support using the form below.
Thank you, Indiana.