Indiana, Tell Your Lawmakers: Thanks for Protecting Animals in 2017!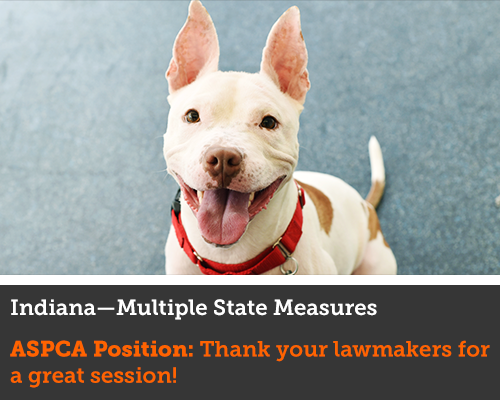 Indiana's legislative session has come to a close, and we want to thank you for all your hard work on these important bills! Your efforts have led to the passage of two very important animal welfare bills, and now's a great time to prep for the work we'll need to do next session.
Pet Protective Orders (S.B. 323) Passed!
All too often, animals are used as pawns in domestic disputes, causing their owners to remain trapped in dangerous situations. This new law will allow judges to include pets in protective orders issued to victims of domestic violence, giving victims the security they need to get help and keep pets away from abusers. Indiana is now the thirty-second state to pass this commonsense law. 

Protecting Animals in Hot Cars (H.B. 1085) Passed!
In the summer, a car can easily trap heat, harming the animals inside. When it's 80 degrees outside, your car's interior will be 114 degrees in less than 30 minutes. This law will prevent the tragedy of animals dying in sweltering cars on hot summer days by providing immunity to Good Samaritans who remove domestic animals trapped in unattended vehicles.

Spay/Neuter Funding Advocate for Funding In the Next Budget Session
To address pet overpopulation, the Indiana State Legislature passed House Enrolled Act 1201 in 2016, which requires that, starting in 2021, shelters and rescue groups must spay/neuter animals before adoption. However, many of Indiana's municipal shelters and non-profit rescues cannot pay for all these surgeries. Although Senator Messmer and Representatives Karickhoff and Lawson championed efforts to fund spay/neuter services in 2017 to help shelters and rescues meet this important requirement, state legislation to appropriate funds did not pass. Please urge your legislators to make passing funding for spay/neuter services a priority in the next budget session.
What You Can Do
Thanks for all your hard work this year, advocates. Please take these two quick actions to ensure we continue to make tremendous progress in 2018!
Call Governor Holcomb. Please take a moment to call Governor Holcomb at (317) 232-4567 and thank him for signing legislation that will protect victims of domestic violence and provide necessary immunity to those helping animals escape hot cars.

Email Your Legislators. Using the form below, please email Governor Holcomb and your state representative and senator to thank them for standing up for animals in 2017 and urge them to pass spay/neuter funding in the next budget session.
Thank you, Indiana!