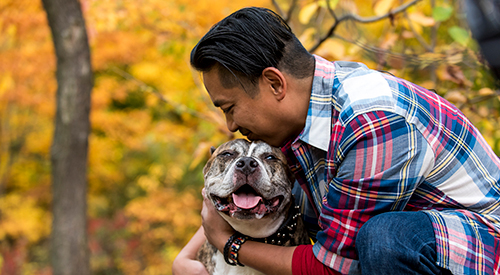 Update—June 6, 2023: Victory for pit bulls and their families! The Independence City Council finally voted in favor of repealing a discriminatory dog breed ban that has, for more than 15 years, prohibited people from owning pit bulls within city limits.
With the removal of this ban, local Animal Services can better focus their resources on educating communities about pet and human safety, keeping pets and people together and other critical animal welfare issues.
This milestone was made possible by YOUR hard work. Thank you for using your voice to tell the City Council that breed-specific legislation (BSL) harms everyone and has no place in your community.
Learn More About BSL
There is no evidence that breed-specific laws, like the pit bull ban in Independence, make communities safer for people or companion animals. Following a thorough study, the Centers for Disease Control and Prevention (CDC) decided to strongly oppose BSL. The CDC cited, among other problems, the inaccuracy of dog bite data and the difficulty in identifying dog breeds (especially true of mixed-breed dogs). Breed-specific laws are also costly and difficult to enforce.
What You Can Do
Join us in thanking the Independence City Council for their decision to remove the city's cruel, discriminatory law. If you live in Independence: Please call (816) 325-7027 to reach the Office of the City Council and say:
"As a resident of Independence, I want to thank the City Council for repealing an outdated ban on owning pit bulls. The Council's decision will make our community stronger, safer and more humane for everyone. Thank you."
Thanks for advocating for the dogs and families of Independence!