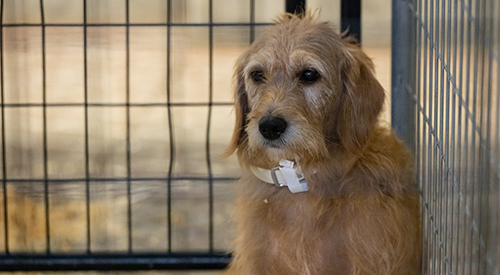 IN H.B. 1121/S.B. 134—Sale of Companion Animals
ASPCA Position: Oppose
Authors: Rep. Mike Aylesworth, Senators Doriot and Leising
Update—January 27, 2023: Indiana's House and Senate Agriculture committees met on Monday, January 23, to discuss these harmful bills and consider public comments. A vote could be scheduled at any time. It's critical that they continue hearing from you! Please use our form below to send your lawmakers a pre-drafted email urging them to oppose H.B. 1121/S.B. 134.
Indiana's legislative session just began, but lawmakers already introduced a dangerous bill that could have disastrous consequences for dogs if passed. The Sale of Companion Animals bills (H.B. 1121/S.B. 134) would strip Indiana's cities of their authority to prevent the sale of puppies in retail pet stores and would nullify the 14 existing local laws in the state that already do so.
Learn More
Most puppies sold in stores come from puppy mills, which are horrible facilities where dogs are often kept in overcrowded and unsanitary conditions without adequate veterinary care, food, water or socialization. A few states and hundreds of local governments across the nation have enacted laws to keep cruelly bred puppies out of their stores, but puppy mills are fighting back. Their lobbyists are pressuring state legislatures to pass dangerous bills like this one, which block cities and counties from prohibiting the retail sale of puppies in their communities.
What You Can Do
Today, use this easy form to email your state lawmakers and urge them to oppose the Sale of Companion Animals Bill.
View Message
Subject Line:
Please Oppose H.B. 1121/S.B. 134
Dear Lawmaker,
As your constituent, I am writing to ask you to oppose H.B. 1121/S.B. 134, which would protect the cruel puppy mill industry and strip local governments of their ability to reject the sale of inhumanely bred dogs in their communities.
As you may know, most puppies sold in pet stores come from commercial dog breeding facilities, a.k.a. puppy mills, where dogs endure lives of confinement in overcrowded and unsanitary conditions without adequate veterinary care, food, water or socialization. In addition to the inhumane treatment these dogs receive, dogs living in such poor conditions produce puppies who may suffer from health and behavioral problems. Families are often left unprepared for the financial and emotional consequences of caring for a sick dog.
H.B. 1121/S.B. 134 are designed to allow puppy-selling pet stores in Indiana to continue sourcing from these inhumane, commercial breeding facilities and strip cities in Indiana of their local power to meaningfully address this issue.
The overwhelming majority of pet stores nationwide do not sell dogs and cats, proving that stores can thrive without cruelty. I respectfully ask that you please oppose any version of H.B. 1121/S.B. 134 that would strip the ability of local governments to enact meaningful laws aimed at protecting communities from those who sell sick, cruelly bred puppy mill dogs.
Thank you for your time and consideration of this important issue. 
Sincerely,