Iowa, Dangerous Ag-Gag Bill Signed into Law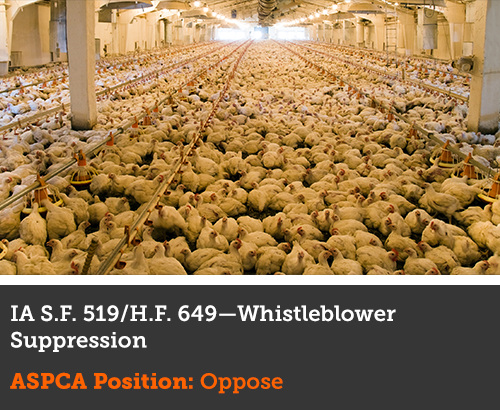 Update—Thursday, March 14, 2019: We have bad news, advocates. Unfortunately S.F. 519/H.F. 649 was passed by both chambers and signed into law by Gov. Reynolds. We want to thank all of you who took action, and we hope you will stand by our side as we fight to defeat ag-gag measures in the future.
Senate File 519/House File 649 would prevent people who witness illegal or unethical activity on farms from bringing that abuse to light, and punish whistleblowers who go undercover on farms with thousands of dollars in fines and up to two years in jail. This is a transparent effort to cover up animal abuse and food safety issues on factory farms. 
Iowa's previous ag-gag law was found unconstitutional by the U.S. District Court for the Southern District of Iowa just two months ago. Iowa lawmakers are again trampling over First Amendment rights in an effort to protect animal agriculture.
Whistleblowers are critical to preserving the integrity of our food production system and bringing to justice those who break the law by abusing animals and endangering communities.