USA: Give Your Member of Congress Feedback on the Horse Slaughter Vote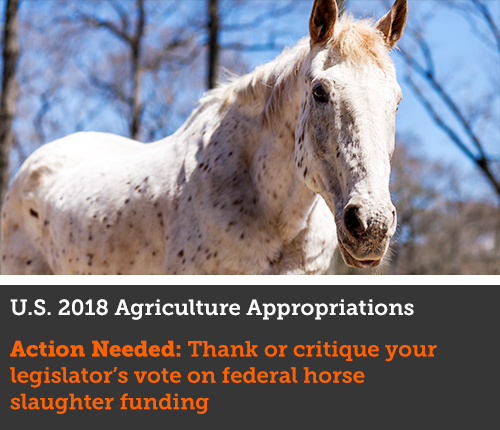 Unfortunately, on July 12 the House Appropriations Committee rejected an amendment offered by Reps. Lucille Roybal-Allard (D-CA) and Charlie Dent (R-PA) to continue the ban on the use of federal dollars to support the horse slaughter industry.
This ban, which prevents the cruel and environmentally devastating horse slaughter industry from reestablishing roots on U.S. soil, must be renewed every year as part of the federal agriculture appropriations process. The amendment was defeated by a narrow margin of 2 votes (25-27).
Opponents who want to bring this grisly practice back to the U.S. have fought hard to dissuade committee members from supporting this amendment.
That's why it's critically important that those who stood beside us and voted yes on the Roybal-Allard/Dent Amendment receive recognition. We hope that positive reinforcement from constituents will inspire legislators to continue to protect horses and other animals.
It's equally important to hold our legislators accountable when they vote the wrong way for animals. If your lawmaker voted no on this amendment, it is vital that you express your disappointment to show you are paying attention and disagree with his/her choice.
 
What You Can Do
All representatives will have another opportunity to vote on this issue in the coming weeks, and we want to ensure that they stand by us.
Please use the form below to quickly email your U.S. representative and thank him or her for voting the right way for horses or express your disappointment in his or her vote against horses. Please note: our system will know which email to send your legislator based on your home address.