USA: Thank Your Rep. for Helping Victims of Animal Fighting!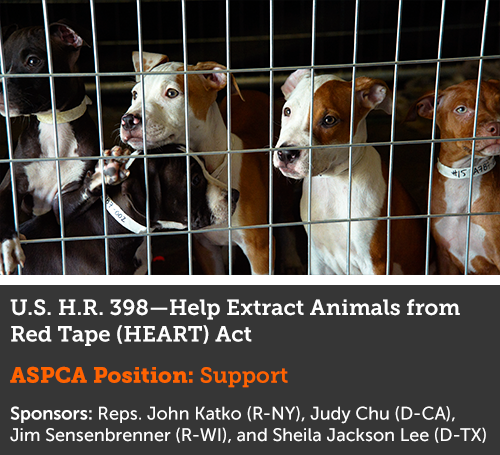 When animals fall victim to cruelty and are seized in federal animal fighting busts, they may endure months-long stays in shelters as the related cases drag through the court system.

Even with high-quality care, this extended period of legal limbo not only causes extreme stress and behavioral problems for the innocent animal victims involved, but also prevents them from being adopted into new homes. What's more, the astronomical expense of caring for and holding seized animals for long periods of time can cause financial and logistical obstacles for animal organizations and may prevent shelters from assisting in future investigations, which means fewer animals saved.

If you were directed to this page by an ASPCA email, your U.S. representative introduced important legislation that will cut through the red tape for victims of animal fighting and help these animals find loving homes sooner. (See gray info box for the four lead sponsors.)

The HEART Act (H.R. 398) would require owners to reimburse the costs of caring for animals seized in federal animal fighting cases and help animals find homes faster by expediting the court process that allows them to be re-homed and rehabilitated.
 
What You Can Do
It's so important that we recognize our elected officials when they work to protect animals, and your words of gratitude go a long way toward ensuring their continued support. Please use the form below to contact your U.S. representative in Washington, D.C., and thank him or her for introducing the HEART Act.

On behalf of all animal fighting victims, thank you!