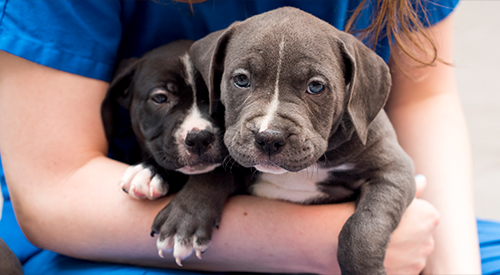 U.S. H.R. 2085—Help Extract Animals from Red Tape (HEART) Act
ASPCA Position: Support
Sponsors: Reps. Judy Chu (D-CA) and John Katko (R-NY)
When dogs who have fallen victim to cruelty are seized in federal animal fighting busts, they may endure months-long stays in shelters before they're permitted to be rehomed.
Since the animals are considered "evidence," they have to be held until the court cases finish. But unlike a stolen car or other property, animals must be taken care of in the meantime. Even with high-quality shelter care, this drawn-out waiting period often causes extreme stress and behavioral problems to develop. Additionally, caring for and holding seized animals for long periods of time is expensive. The costs can keep shelters from assisting in future investigations, which means fewer animals saved.
Fortunately, legislation currently pending in Congress will help cut through the red tape for victims of animal fighting. The HEART Act will help seized animals begin new lives faster by expediting the court process that allows them to be rehabilitated. Another plus: the bill requires owners to reimburse the costs of caring for these animals.
What You Can Do
Please use the email below to contact your U.S. representative in Washington, D.C., and urge them to support and cosponsor the HEART Act. If your lawmaker is already a cosponsor, our system will automatically send them a letter of thanks!
Do you want to take your advocacy work one step further to help dogfighting victims? The ASPCA's Legislative Engagement team is looking for advocates who are willing to submit a letter to the editor of their local newspaper or meet with their member of Congress on this important bill. If you are interested in getting involved or want to learn more, please email us at grassroots@aspca.org. 
On behalf of all animal fighting victims, thank you!