Hawaii, At-Risk Cats (and Dogs!) Need Your Voice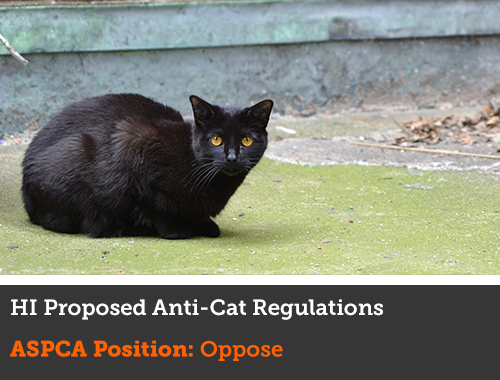 Hawaii's Department of Land and Natural Resources (DLNR) has proposed regulations that, if adopted, would have tragic consequences for free-roaming cats as well as lost pets.
The regulations would put an end to Trap-Neuter-Return-Monitor (TNRM) on certain public lands. TNRM—the process whereby free-roaming cats are trapped, spayed or neutered, vaccinated, and then returned to their outdoor environments and monitored—is the most humane and cost-effective method of controlling free-roaming cat populations.
What's even more appalling is that the regulations would authorize the DLNR to kill dogs and cats, including pets who are owned but have gotten loose, by any means necessary.
It is shocking that the DLNR would even consider such a barbaric proposal to cruelly kill companion animals.
 
What You Can Do
It is critical that the DLNR hear strong public opposition to these proposed regulations. The Department is only accepting public comments through August 5, so please take these actions today: 
1.  Use the form below to send a comment to the DLNR stating your opposition to the proposed regulations.
2.  If you are able, please consider attending a public hearing in person to show your opposition. Find the dates and locations of public hearings here.
Thank you, Hawaii.