Hawaii, At-Risk Cats Need Your Voice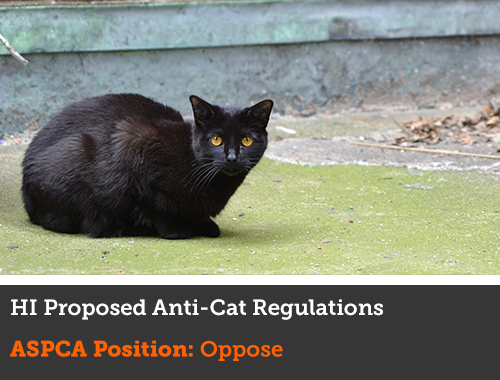 Hawaii's Department of Land and Natural Resources (DLNR) has adopted dangerous new regulations that will have tragic consequences for free-roaming cats. The Governor must now sign these regulations in order for them to go into effect. We need you to make your voice heard and convince the Governor to reject these regulations.
The regulations would put an end to Trap-Neuter-Return-Monitor (TNRM) on certain public lands. TNRM—the process whereby free-roaming cats are trapped, spayed or neutered, vaccinated, and then returned to their outdoor environments and monitored—is the most humane and cost-effective method of controlling free-roaming cat populations.
This bad policy makes absolutely no consideration for the well-being of free roaming cats, and moves DLNR one step closer to simply eradicating them.
 
What You Can Do
Governor Ige must now decide whether to reject or approve these regulations  and it is critical that he hear a roar of dissent from advocates like you.
Please use the form below to tell the Governor that Hawaii won't tolerate the cruel killing of innocent animals.

Thank you, Hawaii.