Georgia, Thank Your Lawmakers for Being Heroes for Puppy Mill Dogs!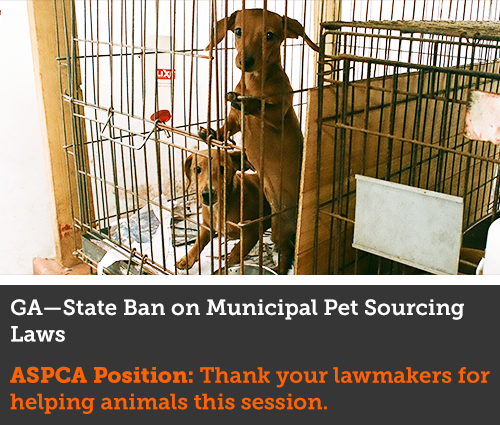 This legislative session, dangerous legislation (H.B. 144) was introduced in an attempt to prohibit the state's cities and counties from passing their own laws to keep cruelly bred puppies out of their pet stores. When H.B. 144 failed to pass in the House of Representatives, its backers began hijacking other, unrelated bills in a last-ditch effort to attach this harmful language and get it passed.
Several of Georgia's leaders stepped up to the plate and stopped this harmful measure from passing into law.
Although presented as a consumer-protection bill, H.B. 144 would have protected the puppy mill industry, making it easier for puppy mill brokers to sell dogs in Georgia.
Those who helped block this bill from passing deserve recognition! Please take a moment to thank Lt. Governor Cagle, Senator Unterman, and House Rules Chairman Meadows for standing up for animals and local governments.
 
What You Can Do
Thanking your legislators is just as important as urging them to vote the right way. Please help us make sure those who stood up for puppy mill dogs feel appreciated for their leadership on this important issue.
Simply use the form below to quickly email Lt. Governor Cagle, Senator Unterman and Chairman Meadows to thank them for their efforts in stopping H.B. 144.
Thank you, Georgia!