USA: American Horses Need Your Legislators' Help!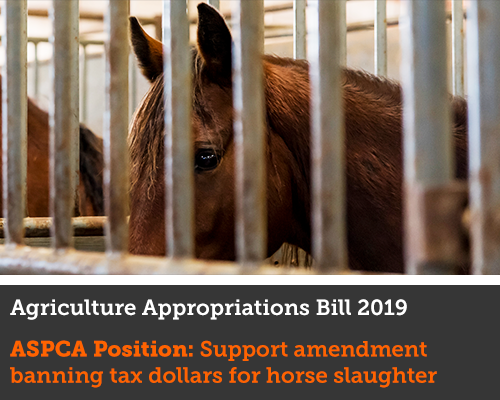 Update—December 27, 2018: Congress and the White House failed to reach an agreement on a federal spending bill, effectively shutting down parts of the federal government. Negotiations on the FY19 Appropriations bill and protections for wild and domestic horses are ongoing and will soon be decided for 2019. 
Horses are currently protected from slaughter on American soil, but this could soon change. Every year Congress must pass an amendment that prohibits the U.S. Department of Agriculture (USDA) from using taxpayer dollars to inspect horse slaughter facilities. Since 2007, this language has effectively barred this grisly industry from setting up shop in the U.S.
Thankfully, the Senate Appropriations Committee voted to include this amendment in its version of the 2019 Agriculture Appropriations bill—but the House Appropriations Committee did not. Because the Senate and House are on different pages, we need your help to ensure this critical language to protect our nation's horses is included in the final bill.
What You Can Do
U.S. House and Senate leadership will soon decide whether your tax dollars will be used to support the gruesome horse slaughter industry, so please don't delay. Use the form below to email to your members of Congress asking them to protect America's horses.