USA: American Horses Need Your Legislators' Help!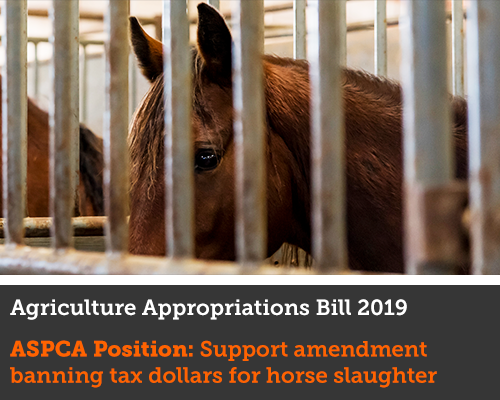 Update—May 16, 2018: Distressing news, advocates. The House Agriculture Appropriations Committee voted to move the Appropriations Bill forward without language to protect horses from slaughter. The Senate must include this provision to keep America's horses safe—see action steps below!
Horses are currently protected from slaughter on American soil, but this could soon change. Every year Congress must pass an amendment that prohibits the U.S. Department of Agriculture (USDA) from using taxpayer dollars to inspect horse slaughter facilities. Since 2007, this language has effectively barred this grisly industry from setting up shop in the U.S.
Wild horses and burros are also under threat this year. These majestic icons of the American West are currently protected under federal law from both sale to commercial slaughter and mass killing as a brutal form of population control. But some are working to strip these crucial protections from our iconic herds.
In March, Congress passed an omnibus spending package with several crucial protections for animal welfare, including hard-fought provisions that will continue the ban on domestic horse slaughter and retain commonsense protections for our wild horses and burros. This was a huge victory for our nation's horses but the bill will expire in September and must be renewed in order to ensure our nation's horses are protected from this cruel and unnecessary treatment.
The U.S. House Appropriations committee voted to move the bill forward without this important language. Now the Senate Appropriations Committee must retain this vital provision in their version of the bill in order to protect horses from the grisly horse slaughter industry. 
 
What You Can Do
The Senate Appropriations Committee will decide the fate of our nation's horses, both domestic and wild, as soon as this week. It is imperative that you take these two simple actions to help horses right now:
1. Call your U.S. senators' offices in Washington, D.C. If you don't know who represents you in the Senate, you can find your senators' names and contact numbers here. Then look to see which of your senators serve on the Appropriations Committee here. You can use this script when speaking with the receptionist:  
 
"Hi, this is [your name] and I am your constituent residing in [state]. I'm calling today to urge Senator [your Senator's name] to continue the ban on domestic horse slaughter and oppose any amendment that attempts to strip our nation's wild horses and burros of their rightful protections. As a horse lover, I do not want my tax dollars subsidizing the destruction of our nation's horses. It is cruel and wasteful. Thank you."
2. Send a follow-up email to your U.S. senators with the same message of support using the form below.
On behalf of our nation's horses, thank you!