USA: American Horses Need Your Legislators' Help!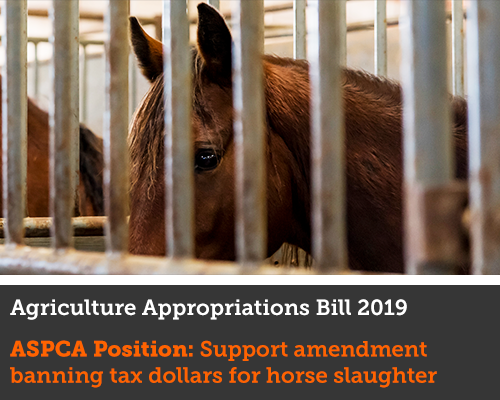 Update—September 28, 2018: Congress has passed a Continuing Resolution that maintains the current ban on domestic horse slaughter and protections for wild horses through the beginning of December. But negotiations about these provisions in the final 2019 bill are ongoing, so now is the time to make your voice heard. Let your legislator know that you value equine welfare and do not want to see your tax dollars used on the barbaric horse slaughter industry. See action steps below!
Horses are currently protected from slaughter on American soil, but this could soon change. Every year Congress must pass an amendment that prohibits the U.S. Department of Agriculture (USDA) from using taxpayer dollars to inspect horse slaughter facilities. Since 2007, this language has effectively barred this grisly industry from setting up shop in the U.S.
Thankfully the Senate Appropriations Committee voted to retain crucial language to protect horses from slaughter in their version of the Agriculture Appropriations bill, but the House Appropriations committee voted to move the bill forward without this important language. Now that the Senate and House have again made different decisions regarding the fate of equines, we need your help to ensure this critical language is included in the final bill.
Wild horses and burros are also under threat this year. These majestic icons of the American West are currently protected under federal law from both sale to commercial slaughter and mass killing as a brutal form of population control. Instead, the Bureau of Land Management (BLM) should employ fertility control to humanely manage wild horses on the range, because we know that they are safe, effective, and can be implemented now.
 
What You Can Do
U.S. House and U.S. Senate leadership will meet to negotiate this provision as soon as THIS WEEK, so please don't delay. Use the form below to send an email to your U.S. legislators asking them to ensure the humane management of our iconic wild horse and burro herds.