USA: American Horses Need Your Legislators' Help!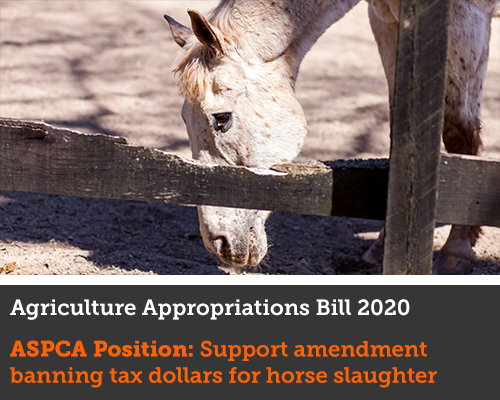 Update—July 18, 2019: Along with a suite of other wins for animals, the U.S. House Appropriations Committee passed a package of Appropriations bills that maintain the longstanding provision to keep horse slaughter off of American soil. We are thrilled to see such across-the-board progress against horse slaughter, but we must ensure there is now follow through. The U.S. Senate will soon begin crafting their own FY2020 Appropriations bills, and it is vital that they know that you want to see American horses protected. See below for ways to take action now.
Horses are currently protected from slaughter in America, but this could soon change. Every year Congress must pass an amendment that prohibits the U.S. Department of Agriculture (USDA) from using taxpayer dollars to inspect horse slaughter facilities. Since 2007, this language has effectively barred this grisly industry from setting up shop in the U.S.
Fortunately, Congress respected the will of the American public and included this lifesaving amendment in the FY2019 Agriculture Appropriations bill. However, this spending bill will expire on September 30. Lawmakers will soon begin deliberations on the spending bills for FY2020. We need your help to ensure that this critical language to protect our nation's horses is included in that package as well.
 
What You Can Do
Senate Appropriations Committees will soon decide whether your tax dollars can be used in 2020 to support the gruesome horse slaughter industry, so please don't delay. Use the form below to email to your Senators asking them to protect America's horses.
On behalf of America's horses, thank you.