USA: American Horses Need Your Legislators' Help!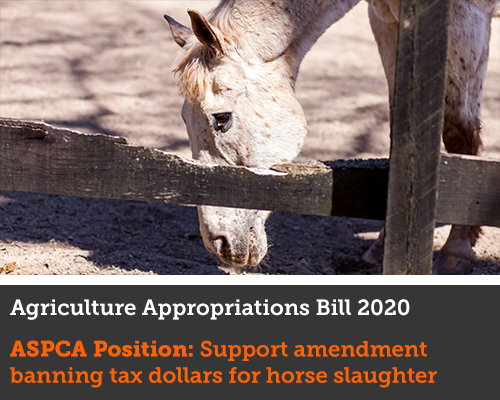 Update—February 15, 2019: In a win for both wild and domestic horses, Congress and the White House reached an agreement on FY2019 Appropriations today to fund the federal government through September 30, 2019. The spending package retained provisions to keep horse slaughter off American soil and to protect wild horses and burros, so they are safe for a few months, but emails to Congress are still needed in anticipation of FY2020 planning, which begins soon. Please see below.
Horses are currently protected from slaughter in America, but this could soon change. Every year Congress must pass an amendment that prohibits the U.S. Department of Agriculture (USDA) from using taxpayer dollars to inspect horse slaughter facilities. Since 2007, this language has effectively barred this grisly industry from setting up shop in the U.S.
Fortunately, Congress respected the will of the American public and included this lifesaving amendment in the FY2019 Agriculture Appropriations bill. However, this spending bill will expire on September 30. Lawmakers will soon begin deliberations on the spending bills for FY2020. We need your help to ensure that this critical language to protect our nation's horses is included in that package as well.
 
What You Can Do
Members of the U.S. House and Senate Appropriations Committees will soon decide whether your tax dollars can be used in 2020 to support the gruesome horse slaughter industry, so please don't delay. Use the form below to email to your members of Congress asking them to protect America's horses.
On behalf of America's horses, thank you.