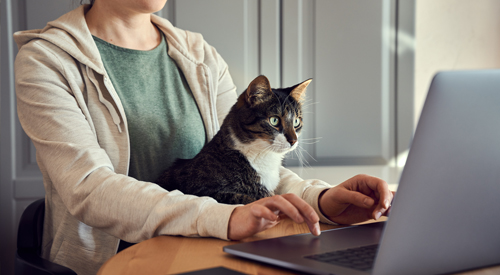 FL H.B. 911/S.B. 1370—Telemedicine
ASPCA Position: Support
Sponsors: Rep. James Buchanan; Senator Ana Maria Rodriguez
During the pandemic, many pet parents faced long wait times for appointments at veterinary clinics, while concern for health and safety deterred others from seeking needed care for their beloved pets altogether.
But it didn't have to be this way. An outdated Florida law forbids veterinarians from practicing veterinary medicine or prescribing drugs unless they have seen the animal within the previous 12 months—a difficult, often unnecessary obstacle.
Current Florida law stands in the way of veterinarians being able to provide adequate care via telemedicine during this unprecedented time.
Florida lawmakers have responded by introducing critical legislation—H.B. 911/S.B. 1370—to expand access to veterinary telemedicine.

If passed, this bill would enable veterinarians in the Sunshine State to be able to provide more care to animals who need it.
What You Can Do
Florida's 2021 legislative session ends in a few short weeks. Please take a few minutes today to leave messages for key policymakers in support of this bill. Making these calls won't take long—and you'll help make a difference in whether this legislation passes this session.
When you call the following key lawmakers' offices, say:
"I'm calling to ask [the Speaker or the Senator] to please support H.B. 911/S.B. 1370 to expand access to veterinary telemedicine and to ensure this legislation passes this session. Thank you."
House Speaker Chris Sprowls: (850) 717-5065
Rules Committee Chair Senator Kathleen Passidomo: (850) 487-5028
Rules Committee Vice Chair Senator Illena Garcia: (850) 487-5037
After you make these phone calls, please use the form below to send a quick email to your state lawmakers and ask them to support H.B. 911/S.B. 1370 to help pets get the crucial care they need.