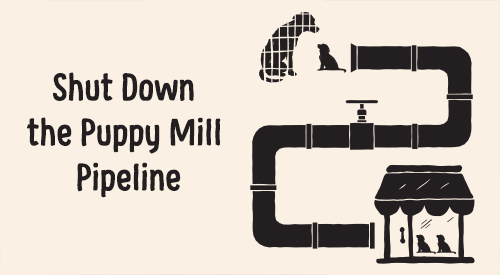 FL H.B. 45/S.B. 1138—End the Retail Sale of Dogs
ASPCA Position: Support
Sponsors: Rep. Sam Killebrew; Senator Jason Brodeur
Did you know that there's no state law in place to prevent pet shops in Florida from selling puppies who have been trucked in from cruel, out-of-state puppy mills? Even though 75 Florida communities have outlawed this practice, selling cruelly bred puppies in pet stores is still legal throughout most of the Sunshine State.
But it doesn't have to be this way when many better options exist for finding your next pet—including working with local, responsible breeders or adopting from a shelter or rescue organization.
It's time to stop importing cruelty into the Sunshine State. Help shut down the puppy mill pipeline into Florida by supporting H.B. 45/S.B. 1138 during the 2021 Florida legislative session.
What You Can Do
This legislative session, Floridians have the chance to shut down the puppy mill pipeline for good.
If passed, H.B. 45/S.B. 1138 will stop commercial breeders from selling puppies in Florida's pet stores—and make it harder for them to profit from cruelty.
Contact your legislator today by using our form below and urge them to support this crucial piece of legislation in 2021.
Thank you, Florida.