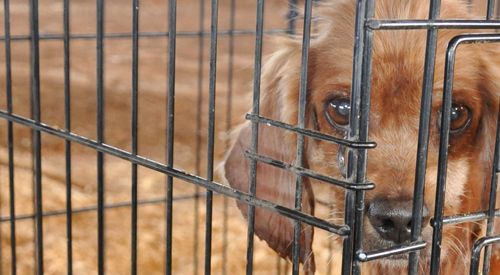 Retail Dog and Cat Sales Ordinance Proposal
ASPCA Position: Support
Update—June 24, 2021: After hearing from hundreds of Orange County residents and voting to move forward with a local law to stop puppy mill cruelty in Orange County, the Board of Commissioners voted to pass an ordinance that will shut down the puppy mill pipeline into Orange County for good. This is great news for dogs, cats and rabbits alike!
Puppy mills keep dogs in cramped cages, forcing them to breed over and over without ever knowing the joys of playtime or human affection. That's why we are so glad Orange County is joining over 70 local governments in Florida that have enacted laws aimed at stopping the retail sale of puppies from puppy mills!
What You Can Do
Now it's time to say thank you! As a citizen of Orange County, you've made a tremendous difference for dogs, cats and rabbits by reaching out to your commissioners, and we are so grateful for your help.
Please take a moment to fill out the email form below to say thank you to Orange County Commissioners Maribel Gomez Cordero, Mayra Uribe, Nicole Wilson and Emily Bonilla for their support on this ordinance!