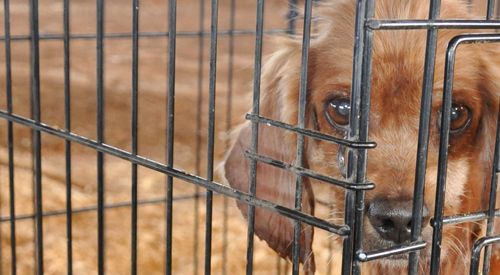 Retail Pet Sales Proposal
ASPCA Position: Oppose Loophole
Puppy mills keep dogs in cramped cages, forcing them to breed over and over without ever knowing the joys of playtime or human affection. That's why roughly 75 local governments in Florida have enacted laws aimed at stopping the retail sale of puppies from puppy mills. However, there's no such law in Orange County.

Even worse, instead of crafting an effective law to prevent puppy mill cruelty, Orange County Commissioners are poised to adopt a formal ordinance that would allow stores to sell dogs and cats from certain sources, creating a major, permanent loophole for puppy mills to pose as "rescues" and skirt the law. Additionally, this dangerous language allows for the grandfathering in of seven retail pet stores in Orange County which defeats the purpose of this bill. Time and time again, we've seen bad actors exploit well-intended laws with loopholes such as those in Orange County's proposal.
In the coming weeks, Orange County Commissioners will vote on a proposed ordinance that contains a troubling "business model" loophole. Orange County's pets and people need the best protections possible to prevent the cruel puppy mill industry from thriving in our communities.
What You Can Do
As a citizen of Orange County, you can make a tremendous difference for dogs by sending the email below to Commissioners (and Mayor Demings) asking them to OPPOSE the flawed proposed ordinance.

Please also call your specific county commissioner and leave a message asking him or her to oppose the current dog and cat retail ordinance proposal with the "business model" and "grandfathering" loophole. You can find your commissioner's name and phone number here.