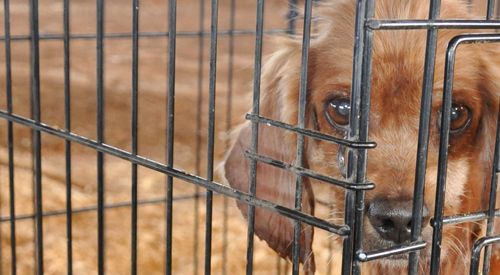 Retail Dog and Cat Sales Ordinance Proposal
ASPCA Position: Support
Update—June 14, 2021: After hearing from hundreds of Orange County citizens and voting to move forward with a local law to stop puppy mill cruelty in Orange County, the Board of Commissioners will hold a public hearing on June 22 to vote on an ordinance that will shut down the puppy mill pipeline into Orange County. We need your voice now more than ever to make sure the final ordinance pases!
Puppy mills keep dogs in cramped cages, forcing them to breed over and over without ever knowing the joys of playtime or human affection. That's why roughly 70 local governments in Florida have enacted laws aimed at stopping the retail sale of puppies from puppy mills. However, there's no such law in Orange County.
Orange County Commissioners will soon consider an ordinance that could end the sale of puppies at retail stores. We must make sure that the Commission adopts an effective law that does not contain dangerous loopholes—such as exempting stores that currently sell puppies, or allowing stores to sell dogs from certain sources and pose as "rescues" to skirt the law.
What You Can Do
As a citizen of Orange County, you can make a tremendous difference for dogs by sending the email below to Commissioners (and Mayor Demings) asking them to end the retail sale of dogs in stores.

Once you've sent the email, please also take a moment to call and leave a message for Mayor Demings at (407) 836-7370. Additionally, call your county commissioner and leave a message asking them to support an ordinance that will effectively end retail sale of dogs and cats in stores. You can find your commissioner's name and phone number here.
Commissioner Nicole Wilson and Commissioner Emily Bonilla support a strong law to end the puppy mill pipeline and do not need to receive phone calls.