Florida, Racing Greyhounds Need Your Voice!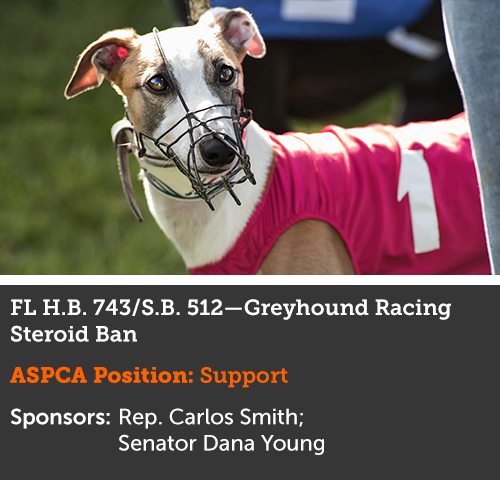 Update—May 1, 2017:  Unfortunately, S.B. 512, which would have banned anabolic steroids in Greyhound racing, did not make it out of committee and is dead for the session. Thank you to everyone who spoke up on behalf of this important bill, and we hope you will stand beside us as we continue to fight for these vulnerable dogs in 2018.
Female racing Greyhounds are routinely injected with anabolic steroids, including testosterone, to prevent the loss of race days and maximize profits. Testosterone is also a performance-enhancing drug. Although this reckless practice is harmful to Greyhounds, Florida still allows for use of anabolic steroids under an obscure state regulation.
H.B. 743/S.B. 512 would have outlawed the use of anabolic steroids in Greyhound racing.
While we continue to work toward the day when Greyhound racing is ended for good, in the short-term we need your help to ensure that the horrific practice of doping these vulnerable dogs is prohibited in Florida.