Florida: Ask Lawmakers to Stop Mandating Greyhound Racing!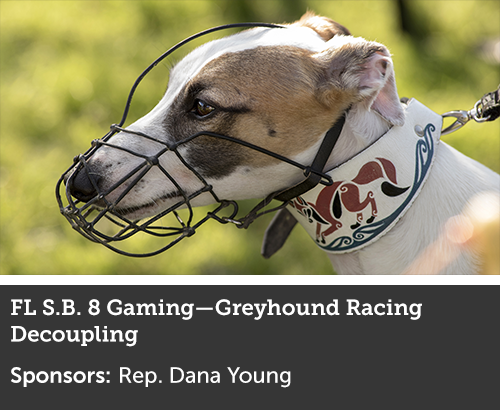 Update—May 8, 2017:  Senate Bill 8, which would have decoupled Greyhound racing from other types of gambling in the state, died in committee. Thank you to all of you who made your voices heard on behalf of this important bill. We hope you will stand beside us as we continue to fight for Greyhounds in 2018.
Greyhound racing is a dying industry, but it's not dying fast enough. That's partly because this cruel industry that forces dogs to literally run for their lives is being unfairly propped up by Florida's state government.
In Florida (home to more than half of the country's Greyhound tracks), live Greyhound racing is actually mandatory for certain businesses with gambling licenses, even though this "coupling" of Greyhound racing with other forms of gaming results in a staggering $35 million loss for tracks each year.
A process known as "decoupling" will separate Greyhound racing from other forms of gambling in the state, allowing the industry to die on its own and free thousands of Greyhounds from lives on confinement and suffering.