USA: Stop Dangerous Language in 2018 Farm Bill!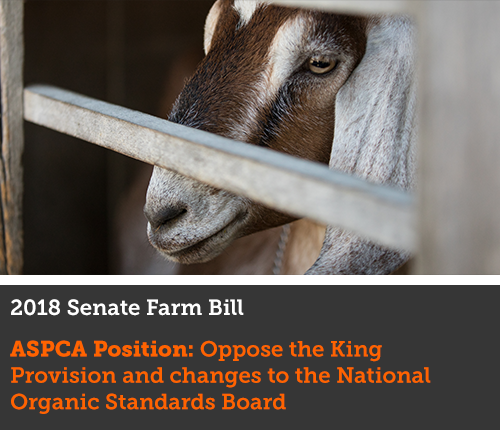 Every five years Congress passes a Farm Bill that impacts our nation's farms, nutrition programs and environment. For far too long, the Farm Bill has ignored vital animal welfare needs in favor oincentives for Big Ag and industrialized factory farming. This year's Farm Bill is no exception.
Big Ag is pushing two proposals in the Farm Bill that would strike a blow to animal welfare protections and prevent future improvements for farm animals.
First, dangerous language inserted into the House Farm Bill threatens animal-protection laws across the country. The King Provision, or the so-called "Protect Interstate Commerce Act," seeks to strip states and localities of the ability to pass and enforce laws regarding the production of any "agricultural products"—a term so broad that it includes not only farm animals like cows and pigs, but also potentially dogs in puppy mills.
Second, proposals are floating in the Senate to severely weaken the ability of the National Organic Standards Board (NOSB) to make recommendations, such as animal welfare improvements, for our nation's organic farms. Consumers expect higher welfare for animals raised under the USDA Organic label, and the NOSB has consistently recommended changes to meet these expectations. However, Big Ag wants to take over this board, curtail its power, and halt any progress for higher animal welfare.
What You Can Do
If you received an email directing you to this page, you're in a unique position to help. At least one of your U.S senators serves on the Senate Agriculture Committee, which is currently drafting the Senate Farm Bill. Your voice will be critical in ensuring that the language in the Farm Bill reflects the values of constituents, including the protection of animals.
Use the email below to contact your senator(s) and ask him or her to oppose the King Provision and any changes to the National Organic Standards Board. 
On behalf of our nation's 10 billion farm animals, thank you.