USA: Your U.S. Rep Can Be a Hero for Horses!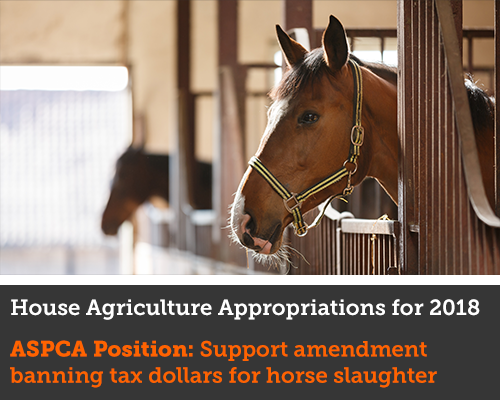 You may recall that we won a major victory for horses last year when the 2017 federal appropriations bills were considered in Congress. Congress voted to renew a ban on the use of tax dollars for inspections of horse slaughterhouses, which keeps horse slaughter plants from operating in this country.
Unfortunately, this ban will expire unless Congress acts. It must be renewed in order to protect our nation from the cruel, unnecessary and predatory industry of horse slaughter.
Opponents who want to bring this grisly practice back to the U. S. are counting on Congress to let the ban expire. It is now more urgent than ever that Congress continue the ban and prevent this cruel and environmentally devastating industry from reestablishing roots on U.S. soil. 
The U.S. House is preparing the 2018 Agriculture Appropriations bill. You are so fortunate to have a legislator who can prevent horse slaughter funding—let him know you believe in this cause!
What You Can Do
If you received an email from the ASPCA directing you to this page, you are one of very few people in the nation represented by a Congressional leader for horses.
Standing up against animal abuse takes courage and support, so please use the form below to send an email to your representative urging him to stop horse slaughter funding.
On behalf of our nation's horses, thank you! Your action is a crucial part of advancing the fight to prevent the slaughter of American horses.