DC: Stop Dangerous Legislation Threatening the District's Cats!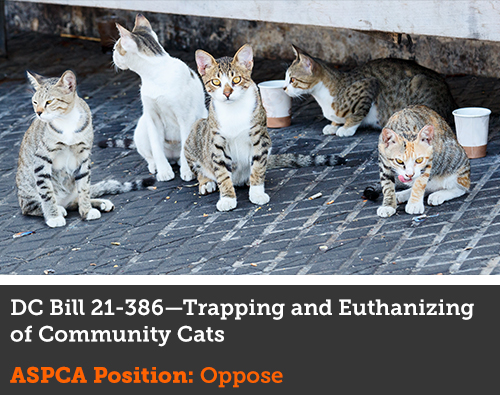 Update—December 9, 2016:  The ordinance passed with references to cats removed. Thank you to all of you who contacted your councilmembers and made your voice heard on behalf of this important issue.
The DC City Council is considering legislation that would have a disastrous effect on cats in the District and disrupt current efforts to effectively and humanely manage community cats. 
The ASPCA supports humane, lawful and effective strategies for managing community cat populations such as
TNRM
, which entails humanely trapping, neutering and vaccinating cats then returning them to their outdoor environment where they are then monitored.
DC Animal Care and Control has been employing this humane strategy successfully, but the proposed legislation would undermine their efforts, essentially resulting in mass extermination of community cats.