Connecticut's Dogs Deserve Proper Shelter!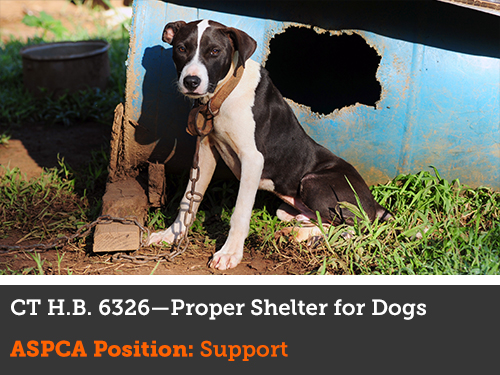 Update—March 13, 2017: Unfortunately, the Environment Committee did not bring H.B. 6326 to a hearing. Thank you to everyone who spoke up, and please stay tuned—we will need your help on this issue in the near future! See action steps below.

An important humane bill to require proper shelter for dogs, H.B. 6326, is pending in the Connecticut General Assembly.

Unfortunately, Connecticut's cruelty law requires injury or at least extreme and obvious distress before authorities can intervene, even when it's clear that circumstances pose a danger to a dog's welfare. This bill's proper shelter requirements would clarify an owner's obligations and permit earlier, necessary interventions. Here's how H.B. 6326 would save lives:
H.B. 6326's requirement that dogs left outdoors for more than 30 minutes under adverse environmental conditions have access to proper shelter would have allowed Norwalk Animal Control to intervene before a dog was badly burned, and her puppies killed, when a poorly constructed shelter made from tarps caught fire.
 
H.B. 6326's prohibition on the improper confinement of dogs would have allowed Branford Animal Control to help a Newfoundland dog crammed into a crate much too small for her. Unfortunately, animal control was not permitted to intervene on the dog's behalf.
 
H.B. 6326's improper confinement prohibition may have also permitted earlier intervention on behalf of the dogs inhumanely confined in a frigid barn by a "rescue" in Bethlehem, and prevented the larger dogs from later being returned to the rescue.
 
What You Can Do
If you would like to get involved and help us pass this much-needed legislation in Connecticut, please let us know by emailing Grassroots@aspca.org today. We can't do this life-saving work without you!