Connecticut: Bill to Protect Animals from Inhumane Shelter Needs Your Help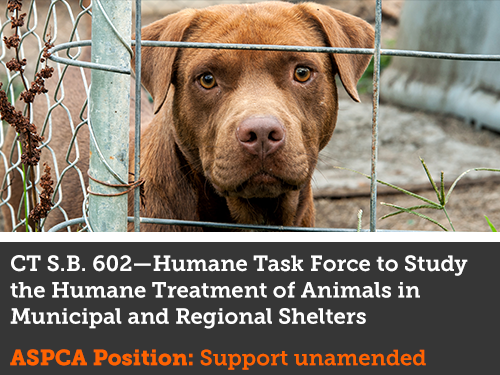 Update—June 2, 2017: Unfortunately, the provision that would require the Task Force to examine the proper shelter question was removed from S.B. 602. We want to thank all of you for speaking up on behalf of this important issue, and we hope you will stand with us as we continue to fight for proper shelter for all of Connecticut's animals.
Legislation pending in the Connecticut Senate would have established the Humane Task Force to Study the Humane Treatment of Animals in Municipal and Regional Shelters. The Task Force will examine regulations and penalties regarding animal abuse, including the failure to properly shelter animals.

We have seen evidence of how the absence of a proper shelter law has harmed Connecticut's animals. In 2013, a Norwalk pit bull named Lucy was burned over most of her body, and her male companion injured and two puppies killed, when a space heater ignited the tarp that served as a roof over their makeshift doghouse. More recently, a court returned a substantial number of dogs to a "rescuer" who had kept them in a frigid Bethlehem barn because the state could not prove cruelty under current law.
On June 1, S.B. 602 was amended to eliminate the requirement that the Task Force examine the proper shelter question, preventing progress on this important issue and keeping animals at risk of serious harm due to neglect and subpar care.