Connecticut: Urge Your State Legislators to Let Gov. Malloy's Veto Stand!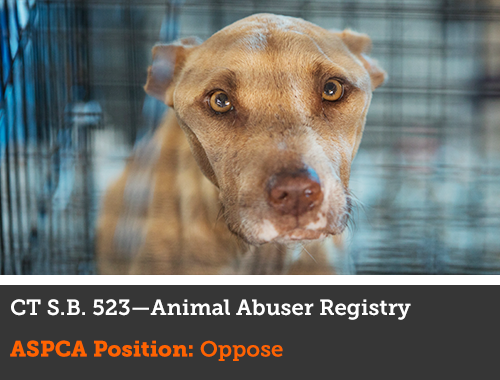 Update—June 14, 2018: Governor Malloy vetoed S.B. 523, but we're not out of the woods yet. We need your help to urge the Connecticut State Legislature to honor, and not override, his veto. Please see action steps below! 
S.B. 523 would require anyone convicted of abusing an animal to register on a public statewide database. While it is hard to argue with the motives behind this bill, which is preventing animal cruelty, it could prove costly for animals and leave them more vulnerable to abuse.
For example, the bill imposes a hefty felony charge on offenders for failure to register (even those convicted of misdemeanor cruelty). By doing so, S.B. 523 could ultimately encourage prosecutors and courts—who may see the felony charge for failure as too burdensome—to simply dismiss cruelty charges, resulting in fewer abuse convictions.
The dismissal of animal abuse cases in Connecticut is already a pervasive and challenging problem. It is important that we not add to that poor track record with counterproductive "feel good" measures like an abuser registry. According to Connecticut's judicial branch, from 2007 through 2017, approximately 80% of all animal cruelty charges were dismissed. Just this month, a Hartford judge granted "pre-trial intervention" in the disturbing case of B.J., the emaciated three year old dog found frozen solid in his doghouse in January, permitting the defendant to avoid criminal charges after a two year probationary period and, perhaps even more important, to evade a prohibition on future animal contact. With so many dismissals already, it would be a mistake to introduce a registry, which will make convictions less likely.
Given the reduced charges and dismissals that abuser registries can give rise to, it is unsurprising that existing animal abuser registries have very few registrants. In Tennessee, the only state to enact a registry so far, there are only 14 individuals currently registered.
What's more, the registry has an anticipated start-up cost of $200,000 and an anticipated maintenance cost of another $200,000 annually—a huge expense for an already financially strapped state, particularly when more effective solutions exist. Instead of spending money on a registry that could result in abusers going unpunished, Connecticut should focus efforts on utilizing no-animal contact orders for those who are convicted, including animals in domestic violence protective orders, strengthening and broadening existing animal cruelty laws, and investing in other critical anti-cruelty efforts such as mandatory psychiatric counseling for offenders, expanded enforcement of the state's cruelty laws, and expanded spay/neuter services.
It has been suggested that vetoing the animal abuser registry sends the message that animal cruelty is not to be taken seriously. However, the ASPCA believes that the best thing the Connecticut legislature can do for animals is to put real money behind real reform that will help, not hurt, animals.

What You Can Do
Governor Malloy vetoed S.B. 523, but now we need your help to encourage the Legislature to honor, not override, his veto.
Please place a quick, polite phone call to your state senator and representative urging them to honor the Governor's decision. If you don't know who represents you, you can find their names and phone numbers here. Then use the form below to send a follow-up email to your state legislators with the same message.
Thank you, Connecticut.