Connecticut: All Dogs Deserve Shelter!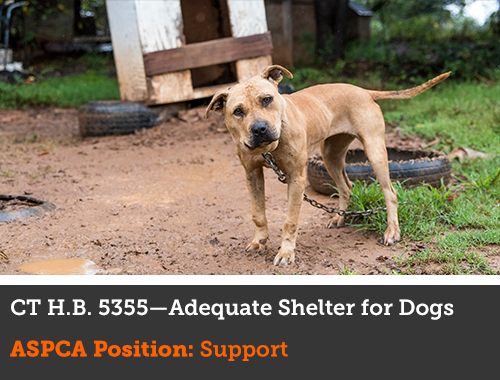 Update—May 16, 2018:  The Connecticut House of Representatives passed H.B. 5355 on the last night of session but, unfortunately, early Senate adjournment prevented passage in that chamber. We want to thank all of you who spoke up on behalf of this important humane bill, as your input resulted in the needed momentum for passage this session as well as commitments from legislators to pass it next year! We hope you will stand beside us as we fight to pass this legislation giving all dogs access to clean, safe shelter in the 2019 legislative session. Please take this opportunity to thank your representatives and Senate Majority Leader Bob Duff for their assistance and to encourage their continued support —see action steps below!
H.B. 5355 is legislation that would have improved existing state law to clarify a dog owner's obligations during extreme weather by requiring that dogs left exposed for more than 15 minutes in harmful weather conditions or in an area under a weather advisory have continuous access to clean, dry, well-constructed shelter that will maintain a dog's body temperature.
These simple reforms would have allowed for earlier intervention to protect dogs who are kept outdoors from needless cruelty.
 
What You Can Do
Please use the form below to thank your state representatives for passing H.B. 5355 and Senate Majority Leader Bob Duff for his support of this important humane bill.  
Thank you, Connecticut.