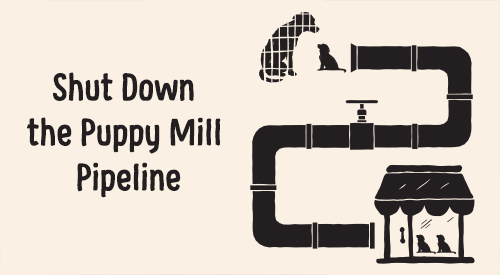 CT H.B. 5475—Regulating Pet Stores
ASPCA Position: Support
Sponsors: Rep. Raghib Allie-Brennan; raised by Planning and Development Committee
Connecticut pet shops have a long history of sourcing dogs from puppy mills, cruel breeding facilities that prioritize profit over the well-being of the animals in their care. This broken system has created a puppy mill pipeline that delivers sick and anxious pets from out-of-state breeders and middlemen to unsuspecting Connecticut consumers.
So far, over 330 jurisdictions across the nation have enacted local laws to keep cruelly bred puppies out of pet stores, including over 120 in neighboring New Jersey alone. Recently, Stamford passed a resolution expressly calling on the state legislature to clarify that Connecticut municipalities have the authority to regulate pet shops. H.B. 5475 would provide the requested clarity and protect Connecticut communities' voice on pet shops.
H.B. 5475 is an important first step in shutting down the puppy mill pipeline into Connecticut—but we need your help to get it passed!
What You Can Do
Connecticut's Planning and Development Committee will soon hold a public hearing on this bill, followed by a committee vote.
Please email your state lawmakers now to urge them to help pass H.B. 5475 in the Planning and Development Committee!