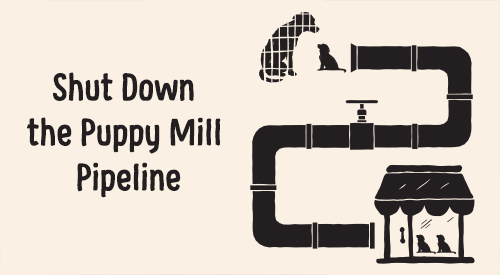 CT H.B. 6542—Allowing Municipalities to Regulate Pet Stores
ASPCA Position: Support
Sponsor: Planning and Development Committee
Connecticut pet shops have a long history of sourcing dogs from puppy mills—cruel breeding facilities that prioritize profit over the well-being of the animals in their care. This broken system has created a puppy mill pipeline that delivers sick and anxious pets from out-of-state breeders and middlemen to unsuspecting Connecticut consumers.

So far, over 330 jurisdictions across the nation have enacted local laws to keep cruelly bred puppies out of pet stores, including over 120 in neighboring New Jersey alone. Stamford and Norwalk have passed resolutions expressly calling on the state legislature either to prohibit the retail sale of cats, dogs and rabbits in pet stores or ensure that Connecticut municipalities have the power to regulate pet shops, while Manchester has also passed a resolution explicitly supporting such a prohibition.

H.B. 6542 will not require municipalities to ban the sale of puppy mill animals in pet stores, but it will permit Connecticut residents—constituents like you—to have this conversation and allow towns to regulate pet stores accordingly.
What You Can Do
This bill needs your help! Given the failure of federal and state government to have any meaningful impact on the puppy mill pipeline that ships cruelly bred dogs from out-of-state breeders into Connecticut's pet shops, it is critical that towns are able to regulate pet stores themselves.
Please use the form below to email your Connecticut state lawmakers and urge them to:
1. Cosponsor H.B. 6542 to allow municipalities to regulate pet store sales of puppy mill animals.
2. Ask the Planning and Development Committee and House and Senate leadership to pass this important bill.