Connecticut, Support Amendment to Keep Puppy Mill Cruelty Out of Your State's Pet Shops!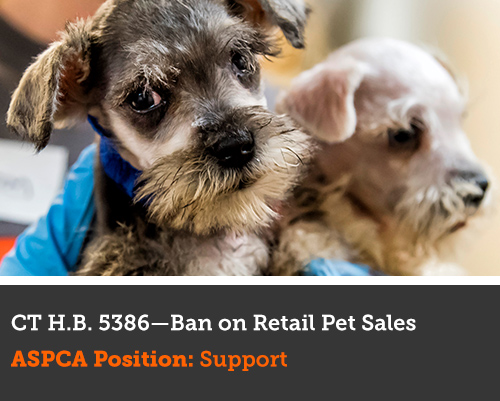 Connecticut pet shops have a long history of sourcing dogs from out-of-state commercial breeding facilities—also known as puppy mills—notorious for sacrificing animal welfare for quick profit. Puppies bred in these conditions are prone to health and behavioral defects, but the pet shops pass them off to consumers as healthy and from responsible breeders. This business model is deceptive, exploits animals and perpetuates puppy mill cruelty.
In response to this cruelty, legislators have proposed an amendment that would ban the sale of dogs and cats (and rabbits, too!) in pet shops across the state. Pet shops could continue to collaborate with animal rescue organizations to host cats, dogs or rabbits available for adoption.
California and Maryland have already paved the way by passing statewide bans on the sale of dogs and cats in pet stores. New York is now considering a ban. We need your voice to make Connecticut the next state to take this historic step!
What You Can Do
Please use the form below to email your state senator and representative to ask them to cosponsor the Allie-Brennan/Doucette Amendment to House Bill 5386 to ban the sale of dogs, cats and rabbits in Connecticut pet shops and ask Leadership to post the bill for a vote.
Thank you, Connecticut!