Connecticut, Amendment to Get Puppy Mill Cruelty Out of Your State's Pet Shops Fails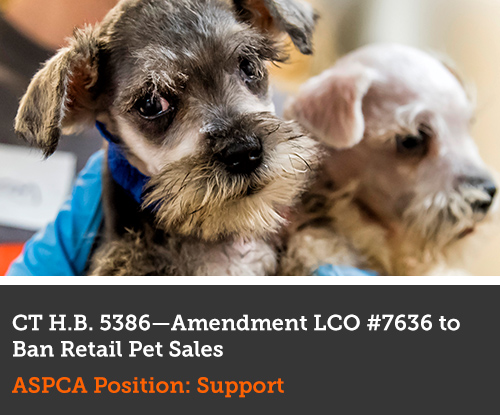 Update—June 5, 2019: Unfortunately, the Alli-Brennan/Doucette Amendment to H.B. 5386 was not adopted by the House before end of session. We want to thank all of you who made your voices heard on behalf of this important amendment to help put an end puppy mill cruelty in Connecticut. We hope you will stand beside us in this fight in the future.
Connecticut pet shops have a long history of sourcing dogs from out-of-state commercial breeding facilities—also known as puppy mills—notorious for sacrificing animal welfare for quick profit. Puppies bred in these conditions are prone to health and behavioral defects, but the pet shops pass them off to consumers as healthy and from responsible breeders. This business model is deceptive, exploits animals and perpetuates puppy mill cruelty.
Following the lead of California and Maryland—which have passed statewide bans on the sale of dogs and cats in pet stores—Connecticut legislators have proposed an amendment that would ban the sale of dogs and cats (and rabbits, too!) in pet shops across the state.
Under this bill, pet shops could continue to collaborate with animal rescue organizations to host cats, dogs or rabbits available for adoption.