Connecticut: Governor Signs Ban on Predatory Pet-Leasing Schemes!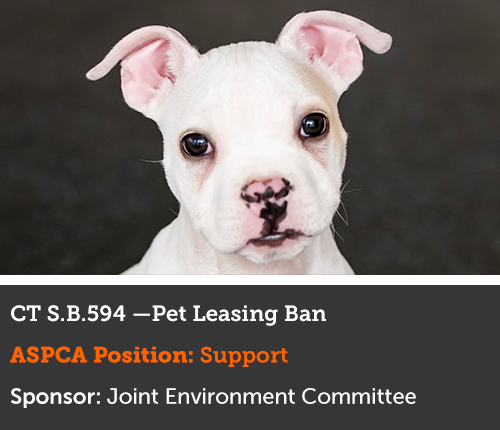 Update—July 15, 2019: Great news, advocates! S.B. 594 passed the House in the final minutes of session and was signed by Governor Lamont for his signature into law. We want to thank everyone who made their voices heard on behalf of this important bill that will protect Connecticut's pets and consumers.
Puppies sold in pet stores and online—most of whom are sourced from cruel puppy mills—are often very expensive. To make them seem more affordable, more and more pet sellers are teaming up with private lenders to offer love-struck shoppers the option to "lease" a new puppy.
These agreements allow the consumer to make monthly payments over a fixed period while the lender pads the purchase price with hidden fees, high buyout payments and high interest rates. Consumers can lose their leased pets if they miss payments or are unable to buy out their contracts at the end of their leases. The animals could be repossessed as if they were used cars.

Fetching sometimes thousands of dollars per puppy, these leasing schemes represent a big payday to greedy pet sellers who traffic in this cruelty, all at the expense of consumers and the animals involved. S.B. 594 would prohibit pet stores from offering these predatory leasing or lending agreements to consumers.