USA: Fate of American Horses Depends on Your Legislator!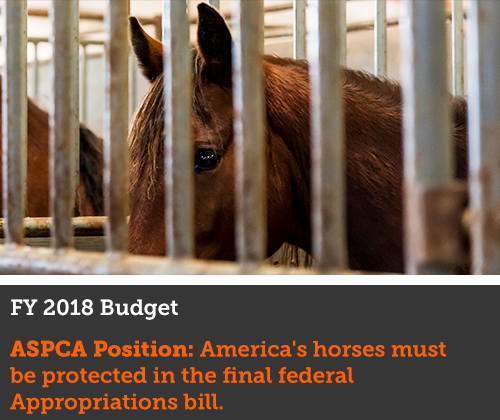 Update—February 12, 2018:  The President's FY2019 budget is calling for the cruel treatment of America's horses, just like it did last year. The Bureau of Land Management (BLM), charged with caring for our federally-protected wild horses and burros, is again requesting authority to kill tens of thousands of them. If this harmful provision makes its way into the FY2018 budget, it will open the door for the BLM to have its way in 2019. Tell your lawmakers that you won't stand for our tax dollars being used to kill our treasured herds. See action steps below.
Two crucial provisions for equine welfare will be decided by U.S. House and Senate Appropriators:
1. The first keeps horse slaughter off of American soil by prohibiting the U.S. Department of Agriculture (USDA) from using taxpayer dollars to inspect horse slaughter facilities. Since 2007, this language has kept the grisly horse slaughter industry from coming back to the U.S.
2. The second prevents the BLM from using lethal techniques to manage federally protected wild horses and burros. Without this long standing provision, our icons of the West could be killed in mass or sold to be butchered for their meat abroad.
Last year the House Appropriations Committee attempted to roll back both of these protections. Thankfully, the Senate Appropriations Committee stepped up for horses and passed an amendment prohibiting the use of federal funds on horse slaughter and preserved protections for our wild horses and burros.
Unless this Senate language ends up in the final version of the 2018 Appropriations bill, our wild herds could face mass extermination at the hands of the agency meant to protect them and horse slaughter could return to the United States.

Congress needs to hear that Americans will not tolerate this betrayal of our treasured equines.
 
What You Can Do
Congressional leaders will now decide the fate of our nation's horses, so it is critical that your elected officials in Washington, D.C., know that you want to see American horses, both domestic and wild, protected. Please take these two actions NOW to ensure that the federal government does not resurrect the nightmarish horse slaughter industry in our communities or exterminate wild horses in the West.
1.  Use the form below to email your U.S. legislators and urge them to support a ban on federal funding for horse slaughter and a prohibition on funds to kill healthy wild horses in the final 2018 Appropriations bill.
2.  Then, please place three quick, polite phone calls: 1 to your representative in the U.S. House, and 1 each to your two U.S. senators. You can find their names and numbers here, and below are scripts you may use when you place calls.
When calling your U.S. representative, say: "My name is [YOUR NAME] and I am from [CITY, STATE]. As your constituent, I urge you to protect our nation's horses from slaughter and our wild horses from mass extermination in the final FY18 Appropriations bill. Please also reach out to leadership and urge them to support these protections. Thank you."
When calling your U.S. senators, say: "My name is [YOUR NAME] and I am from [CITY, STATE]. As your constituent and a strong supporter of equine welfare, I urge you to please support the Senate versions of both the Agriculture Appropriations bill and the Interior Appropriations bill, which prohibit the use of federal funds for horse slaughter and the killing of healthy wild horses and burros. Thank you."
On behalf of our nation's horses, thank you!