USA: Fate of American Horses Depends on Your Legislator!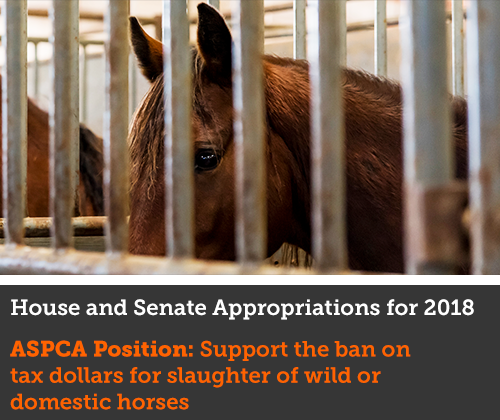 Horses are currently protected from slaughter on American soil, but this could soon change. Every year both the U.S. Senate Appropriations Committee and the U.S. House Appropriations Committee must pass an amendment that prohibits the U.S. Department of Agriculture (USDA) from using taxpayer dollars to inspect horse slaughter facilities. This effectively bars this grisly industry from setting up shop in the U.S.
Unfortunately only the Senate Appropriations Committee passed this amendment this year. The House Appropriations Committee opened the door to horse slaughter when it failed to pass the amendment in a close vote (25-27). These conflicting decisions will be reconciled after Congress's August recess.
This means that there is still a chance to avert this catastrophe: The entire U.S. House and Senate will soon decide whether to include this provision in the final bill. Every American voice must be heard to ensure that horses are protected from this horrific fate.
 
What You Can Do
1.  Email your members of Congress a message of support for horses using the form below. Our system will know who to email based on the home address you enter. All U.S. residents are urged to complete this step.
2. Polite and diplomatic phone calls are critical. Each and every member of Congress will weigh in on the question of whether horse slaughter returns to this country, and they each have the power to urge Agriculture Committee leaders to do the right thing. Please make three calls: 1 to your representative in the House, and 1 each to your two U.S. senators. Find their names and numbers here.
Here's a script you can use when you make your calls:
"My name is [YOUR NAME] and I am from [CITY, STATE]. As your constituent and a strong supporter of equine welfare, I urge you to please ensure that language prohibiting the use of our tax dollars on USDA inspections of horse slaughter plants is included in the final FY18 Agriculture Appropriations bill. 80% of Americans oppose horse slaughter, and this will keep this predatory industry out of the U.S. Thank you."
On behalf of our nation's horses, thank you!