USA: Fate of Horse Slaughter Depends on Your U.S. Rep!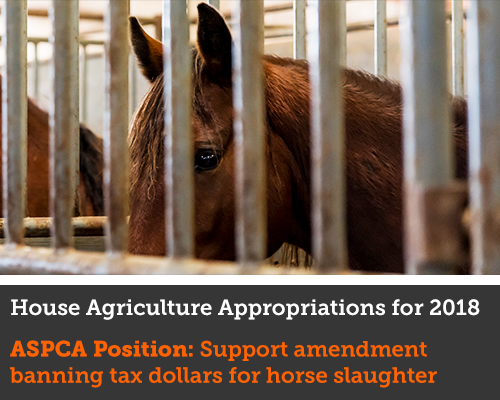 You may recall that we won a major victory for horses in April when the 2017 federal appropriations bill was signed into law. The bill renewed a ban on the use of tax dollars for horse slaughterhouses, but it will expire in September and must be renewed in order to protect our nation from the cruel, unnecessary and predatory industry of horse slaughter.

The U.S. House is preparing the 2018 Agriculture Appropriations bill now, and we expect the House Appropriations Committee to vote on it very soon. It is critical that your legislator vote in favor of the horse slaughter ban amendment.

Last year's House vote was close (25-23), so a single vote can make the difference between victory and defeat.
 
Opponents who want to bring this grisly practice back to the U. S. are counting on Congress to let the ban expire. It is now more urgent than ever that Congress prevent horse slaughterhouses from setting up shop in our country. 
 
What You Can Do
If you received an email from the ASPCA directing you to this page, you belong to a special group of individuals who can help us win this battle. That's because your U.S. representative sits on the House Appropriations Committee, and will decide the fate of the horse slaughter amendment. It is imperative that you take these two simple actions right now to help horses:
1. Call your U.S. representative's office in Washington, D.C. If you don't know who represents you in the U.S. House, you can find his or her name and phone number here. You can use this script when speaking with the receptionist:
"Hi, this is [your name] and I am your constituent residing in [town and state]. I'm calling today to urge Representative [your representative's name] to support the amendment to continue the ban on horse slaughter in the 2018 Agriculture Appropriations bill. As a horse lover, I do not want my tax dollars subsidizing horse slaughter. It is cruel and wasteful. Thank you."
2. Send a follow-up email to your U.S. representative with the same message of support using the form below.
3. Meet with your legislator! Many Members of Congress will be back in their districts during the week of the July 4 recess. This is a great opportunity to talk to your representative face to face right in your town. Please email us at grassroots@aspca.org if you have trouble scheduling a meeting with your legislator.
On behalf of our nation's horses, thank you!