Connecticut: All Dogs Deserve Shelter!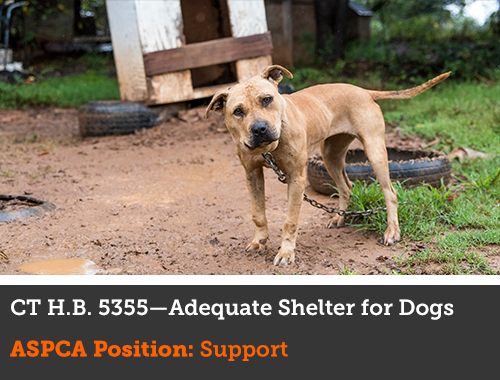 The last day of Connecticut's legislative session is May 9. Things are moving quickly in the General Assembly—we need your help!
H.B. 5355, legislation that would improve existing state law to clarify a dog owner's obligations during extreme weather, could receive a vote in the Connecticut House of Representatives at any time.
The bill would require that dogs left exposed for more than 15 minutes to harmful weather conditions or in an area under a weather advisory have continuous access to clean, dry, well-constructed shelter that will maintain a dog's body temperature.
These simple reforms would allow earlier intervention to protect dogs who are kept outdoors from needless cruelty
 
What You Can Do
We have less than two weeks left to speak up, so please act quickly! Please place a quick, polite call to your state representative. You can simply tell the receptionist that you are a constituent and that you urge your representative to:
Support H.B. 5355 (the adequate dog shelter bill); and 
ask House leadership to call the bill for a vote. 
If you don't know who represents you in the state House, you can find his or her name and phone number here. Then use the form below to send your state representative a follow-up email with the same message of support.
Thank you, Connecticut.