Florida: Stand Up for Puppies, Consumers and Your Community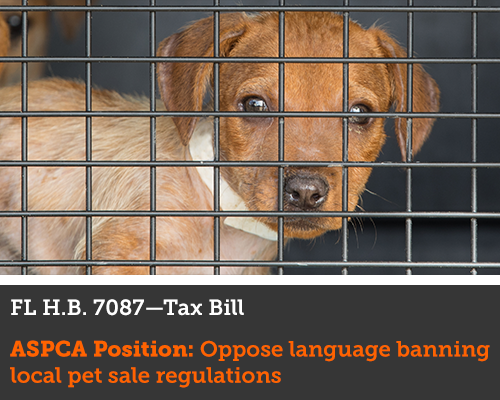 Most puppies sold in pet stores come from puppy mills, large-scale, cruel breeding facilities that prioritize profit over the health and wellbeing of animals. Dogs in these operations are often kept in overcrowded and unsanitary conditions without adequate veterinary care, food, water or socialization. That's why over 250 localities across the nation—including over 60 in Florida—have enacted local laws to keep cruelly-bred puppies out of their pet stores and instead promote the adoption of dogs and cats from rescues, humane societies and shelters.
But the puppy mill lobby is dead-set on invalidating these humane ordinances by any means necessary—including hijacking other bills moving through the state legislature and trying to amend their harmful language onto them.
On February 22, the Florida House of Representatives Appropriations Committee approved a harmful provision, backed by puppy mill brokers, to a tax bill that will strip Florida's towns of their home-rule authority to ban the sale of cruelly-bred dogs in their local pet stores.
If this language is passed by the full Florida Legislature it will invalidate existing local bans, prevent other communities in the state from passing similar laws, and roll back the progress we've made toward minimizing puppy mill cruelty in Florida.
 
What You Can Do
We must act quickly: Your state's 2018 legislative session ends on Friday, March 9, which means this language in the tax bill could be heard on the House floor any day now. Please take these two actions today:
1. Call your state representative and state senator and ask them oppose any bill language that removes local government authority to keep cruelly-bred puppies out of pet shops. If you don't know who represents you in the Florida Legislature, you can find your lawmakers' names and phone numbers here.
2. Once you've made your calls, please use the form below to send your state lawmakers a polite, respectful email with the same message of opposition.
Thank you, Florida.