USA: Fate of American Horses Depends on Your U.S. Senator!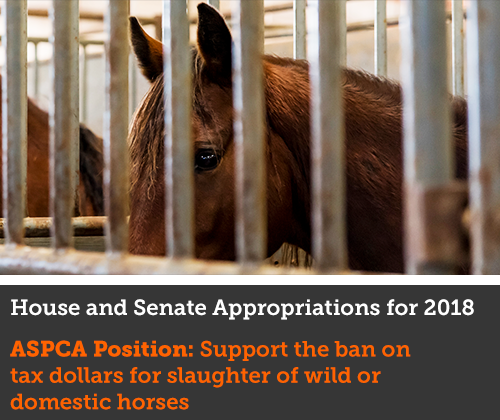 Horses are currently protected from slaughter on American soil, but this could soon change. The U.S. House Appropriations Committee just voted to allow horse slaughter by narrowly defeating an amendment (25-27) that would have forbidden the U.S. Department of Agriculture (USDA) from using taxpayer dollars to inspect horse slaughter facilities. This opens the door for processors to begin slaughtering horses for their meat.
There's still a chance to avert this catastrophe: The U.S. Senate Appropriations Committee will consider the same amendment to bar spending for horse slaughter during the week of July 17. Please help us secure the votes to protect horses.
What You Can Do
1.  Email your members of Congress a message of support for horses using the form below. Our system will know who to email based on the home address you enter. All U.S. residents are urged to complete this step.
2. Phone calls are critical. You may have received a special email from the ASPCA stating that you have a U.S. senator on the Appropriations Committee. If you did (and you may have more than one senator on the Appropriations Committee), please check the list below to find your senator(s), then call the Capitol Switchboard at (202) 224-3121 and ask to be connected to their offices.
Senate Appropriations Members
 

Alabama: Richard Shelby
Alaska: Lisa Murkowski
Arkansas: John Boozman
California: Dianne Feinstein
Connecticut: Chris Murphy
Delaware: Chris Coons
Florida: Marco Rubio
Hawaii: Brian Schatz
Illinois: Richard Durbin
Kansas: Jerry Moran

Kentucky: Mitch McConnell
Louisiana: John Kennedy
Maine: Susan Collins
Maryland: Chris Van Hollen
Mississippi: Thad Cochran
Missouri: Roy Blunt
Montana: Steve Daines & John Tester
New Hampshire: Jeanne Shaheen
New Mexico: Tom Udall
North Dakota: John Hoeven
 

Oklahoma: James Lankford
Oregon: Jeff Merkley
Rhode Island: Jack Reed
South Carolina: Lindsey Graham
Tennessee: Lamar Alexander
Vermont: Patrick Leahy
Washington: Patty Murray
West Virginia: Joe Manchin & Shelley Moore Capito
Here's what to say when you call your senator:
"I am your constituent residing in [town and state]. I'm calling to urge Senator [your Senator's name] to support the amendment to protect American horses from slaughter in the Agriculture Appropriations bill. As a horse lover, I do not want my tax dollars subsidizing this cruel and wasteful treatment of American icons. Thank you."
On behalf of our nation's horses, thank you!