New York: End Puppy Mill Cruelty in the Empire State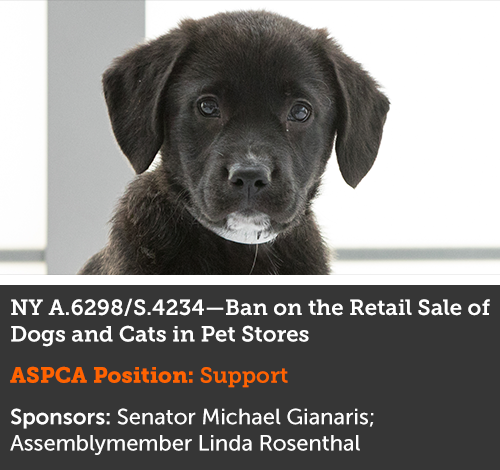 New Yorkers have a unique opportunity to make a huge difference for pets across the state this year. State Senator Michael Gianaris and Assemblymember Linda Rosenthal are sponsoring legislation (A.6298/S.4234) that would prohibit the sale of dogs, cats and rabbits in pet stores across the state of New York.
New York has one of the country's highest concentrations of dog retailers. At any given point, there are approximately 2,000 puppies for sale throughout the state. Pet shops often source their puppies from out-of-state, low-welfare, commercial breeding facilities (a.k.a. puppy mills), then offer them up to unsuspecting customers as healthy, high-quality puppies from responsible breeders. This practice is deceptive and leaves families to bear the costs associated with this cruel industry.
Puppies born in commercial breeding facilities are prone to health and emotional defects; conditions many consumers are unequipped to deal with after unknowingly buying a sick puppy from a seemingly sanitary pet store.
California and Maryland have already paved the way to help end puppy mill cruelty by passing statewide bans on the sale of dogs and cats in pet stores. New York now has the chance to do the same.
What You Can Do
This is a huge moment for New York's dogs, and they need your voice. Please speak up for this important measure by using the form below to contact your Assemblymember and Senator and ask them to support and pass this bill during the 2019 session.
Thank you, New York!