Chicago, Sustainable Food Means Better Lives for Animals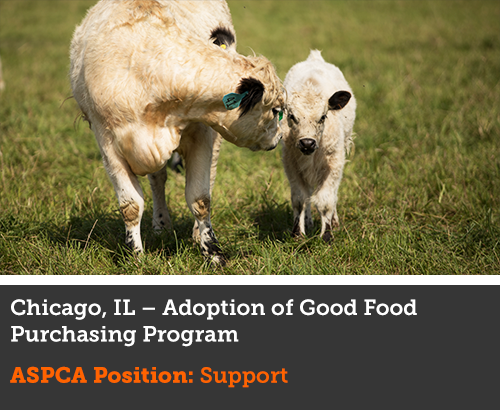 Update—October 12, 2017: Great news, Chicago! The Chicago City Council voted to adopt the Good Food Purchasing Program, helping the city take an important step forward in sustainability and animal welfare. Thank you to everyone who made their voices heard on this important issue.
In addition to our work with producers, retailers and restaurants, the ASPCA is working in cities around the country, like Chicago, to help public institutions source higher-welfare and more responsibly produced, sustainable food through the Good Food Purchasing Program (GFPP).
The program is a tool to help cities, school districts and other major institutions responsible for purchasing food meet five value criteria, including animal welfare. The Good Food Purchasing Program's animal welfare criterion addresses the conditions in which farm animals are raised for meat, milk and egg production with the institution's progress then verified by an independent organization. As largescale buyers of animal products, these institutions affect the lives of millions of farm animals and a shift in policy can drive wide-reaching improvements in their treatment.
Chicago Public Schools adopted the Good Food Purchasing Program in June, and the Chicago Park District followed suit in September.