California, Thank Your Lawmakers for a Great Year for Animals!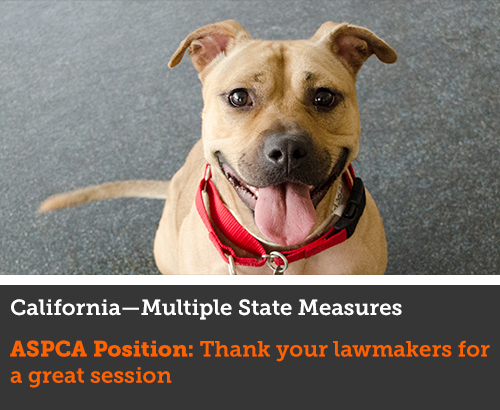 California lawmakers lived up to their humane reputation once again by passing three critical measures to protect pets, consumers and families.
Puppy Mill Pet Sale Ban (A.B. 485) Passed!
Huge news in the fight against puppy mills! California will no longer allow the sale of cruelly bred animals in pet stores as of January 1, 2019. Assemblymember Patrick O'Donnell's legislation, A.B. 485, will eliminate the sale of commercially bred dogs, cat and rabbits in the state's pet stores and, instead, will encourage local shelters and rescue organizations to promote adoption of homeless pets. This landmark legislation makes California the first state in the country to enact such a ban.

Increase in Pet-Friendly Housing (A.B. 1137) Passed!
The high cost of housing in California is increasingly putting families in a position where they must choose between keeping their household pet or keeping a roof over their heads. With evictions on the rise and the number of pet-friendly housing options in decline, housing is regularly cited as a reason that families relinquish their pet to a shelter. This is devastating for the family and also burdens already overcrowded shelters. To help keep pets in loving homes, Assemblymember Brian Maienschein introduced A.B. 1137 which will require all housing financed by the California Department of Housing and Community Development be pet-friendly, opening up thousands of new units each year to pets and preventing families from making the difficult decision to give up their pet. The bill will go into effect on January 1, 2018.
Pet Leasing Ban (A.B. 1491) Passed!
While A.B. 485 will cut off the puppy mill supply chain into California pet stores, pet sellers have employed other deceptive practices to prey on consumers. A disturbing new trend known as "pet leasing" has emerged in recent years. In these predatory financial arrangements, customers agree to monthly payments that appear to make purchasing that expensive puppy more accessible. However, in reality, they end up paying two to three times the retail price of the pet once interest and fees are included. Even worse: The financing schemes do not transfer the ownership of the pet being purchased until all payments have been made, which means that cute little puppy could be repossessed if a payment is missed. Thankfully, Assemblymember Anna Caballero introduced A.B. 1491 to prohibit financing transactions that do not immediately transfer full ownership of a pet to a buyer, protecting consumers from these unscrupulous lending practices. The bill will go into effect on January 1, 2018.
These three new laws will help keep thousands of animals out of shelters and in loving homes. We want to thank all of our advocates who spoke up on behalf of these important bills.