California, Bill to Help Shelter Pets & Taxpayers Needs Your Voice!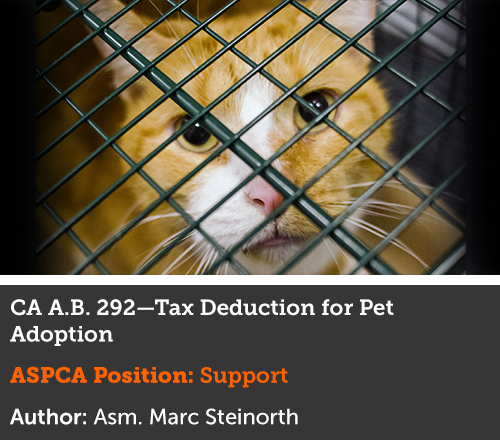 Assembly Bill 292 would reward California residents with a tax deduction for adopting an animal over four years of age from a shelter. The bill addresses the reality that older pets are far less likely to be adopted than younger pets in shelters, which means older dogs and cats stay in shelters longer and are at a higher risk for euthanasia.

The ASPCA supports any incentive that results in a potentially overlooked pet finding a loving home, especially when it prevents needless euthanasia and helps reduce care costs for cash-strapped animal care facilities.

A.B. 292 is stalled in the Assembly Appropriations Committee, and we need your help to ensure this humane bill that saves lives and taxpayer dollars moves forward.
 
What You Can Do
If you've been directed to this page, you are in a special position to help! Our records indicate that you have an Assemblymember serving on the Appropriations Committee, which will play a large role in determining the future of this bill. Please take these two actions today:
Please place a quick, polite phone call to your legislator serving on the Assembly Appropriations Committee and urge him or her to bring A.B. 292 to a full Assembly vote. If you don't know who represents you in the state Assembly, you can find his or her name here.
 
Send a follow-up message of support after you place your call using the form below.
Thank you, California.